The Girl Who Knew Too Much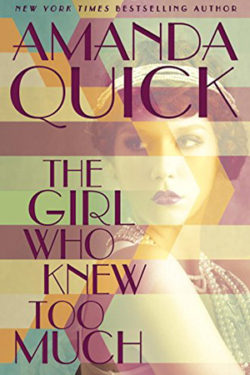 Author

Amanda Quick

Release Date

May 9, 2017

Publisher

Berkley

ISBN/ASIN

978-0399174476

Our Rating

Reviewed by

SJ
Our Review
In Amanda Quick's (Jayne Ann Krentz's) magical THE GIRL WHO KNEW TOO MUCH, we're taken back to California in the 1930s. It's an interesting time period and really adds to the story, especially with Quick's full, rich descriptions. 
Irene Glasson, a reporter and woman with secrets to hide, finds a dead actress at the bottom of a pool in the exclusive Burning Cove Hotel–where the Hollywood famous go to get away from it all, assured of discretion and privacy.
Quick takes readers on a roller coaster of mystery with plenty of suspects for the intrepid heroine and her handsome companion, owner of the Burning Cove, Oliver Ward, to investigate. Oliver's fascinating, a once prominent magician now retired. He walks with a limp, and there's some question as to how his last trick went wrong. 
But Oliver's started over, and he's not willing to let his hotel go down in flames. Irene too has started over, and she needs the scoop of a lifetime. 
Together, the pair make magic as they find out who killed the victim, but the hazards aren't over when they think they are, and Irene's life is in more danger than she can know. Especially because her buried past has risen from its grave…
Quick is a master when it comes to deftly weaving history and mystery with an entrancing romance. THE GIRL WHO KNEW TOO MUCH is hopefully the beginning of a new set of mysteries set in the 1930s. Another sizzling whodunit from the always satisfying Amanda Quick.