The Girl with the Make-Believe Husband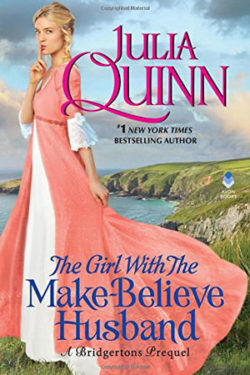 Author

Julia Quinn

Release Date

May 30, 2017

Publisher

Avon

ISBN/ASIN

978-0062670335

Our Rating

Reviewed by

Raonaid
Our Review
Captain Edward Rokesby is the second son of the Earl of Manston. He wakes up in a hospital next to a beautiful woman claiming to be his wife and three months of his life gone. Edward remembers Cecilia from her letters to her brother but he cannot recall marrying his best friend's sister. With her help, he tries to reclaim his missing memories and aid Cecilia in finding her brother. As the search continues, Edward cannot help but fall more in love with his wife. Can Edward forgive Cecilia for her deception once his memory returns?
Cecilia Harcourt is the younger sister of a British officer stationed at the American Colonies. She crosses the Atlantic Ocean to be there for her injured brother. Instead of her brother, Cecilia finds his wounded best friend in the hospital. She claims to be Edward Rokesby's wife in order to nurse him back to health. Cecilia hates deceiving Edward but she needs his resources and assistance to find her missing brother. Will Cecilia learn the fate of her brother? Will Cecilia tell Edward the truth about their so-called marriage before he regains his full memory?
Edward is such a charming and delightful hero. He is neither too alpha nor beta but a pleasant in between that I find irresistible. Edward may be an Earl's son, but he never once behaves entitled or privileged around others, especially his fellow officers. Instead, Edward would rather not use or disabuse the power his birth grants him. I found it incredibly cute how Edward use to hijack his friend's letters just to add little annotations to Cecilia. What I adore the most about Edward is how he is attracted more to Cecilia's sense of humor and smarts than her outer appearance.
It is always a treat seeing a heroine share my niece's name. Cecilia is an outspoken woman comfortable with her lot in life and she had no intentions on elevating her status. I admire her fortitude and bravado on escaping an unwanted situation by sailing across the Atlantic Ocean to be with her brother. I like how the weight of her lie persistently plagued Cecilia throughout the story, even though she meant no artifice with the deception.
THE GIRL WITH THE MAKE-BELIEVE HUSBAND is book two in Julia Quinn's historical romance series, THE ROKESBY, a prequel spin-off from her popular THE BRIDGERTON series. I love how Julia Quinn starts each chapter with snippets from Cecilia, her brother Thomas, and Edward's letters. They remind me somewhat of TO SIR PHILLIPS, WITH LOVE, book five in THE BRIDGERTON series.
THE GIRL WITH THE MAKE-BELIEVE HUSBAND is a sweet and heartwarming romance filled with witty humor, a trend one comes to expect from Julia Quinn. This story reminds me how much I truly missed Julia Quinn's wit and humor.