The Golden Gryphon and the Bear Prince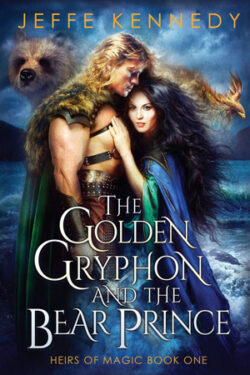 Author

Jeffe Kennedy

Release Date

January 25, 2021

Publisher

Brightlynx Publishing

ISBN/ASIN

B08NSXS6JN

Our Rating

Reviewed by

Raonaid
Our Review
Crown Prince Astar is the son of Princess Amelia and the late Prince of Avonlidgh. He is the heir to the High Throne of the Thirteen Kingdoms. Astar is also a quarter Tala, a shapeshifter. His royal aunt tasks him and his friends to investigate a strange, magical phenomenon. The quest promises to test not only Astar's leadership capabilities but his ability to resist Zephyr's allure. What dangers await Astar and his friends? Will he finally capitulate to Zephyr?
Zephyr is half-Dasnarian and half-Tala. Her first form is a golden gryphon. Zephyr has always wanted to free Astar from his rigid restraints and principals. She intends to have her way on their quest, even against their friends' reservations. However, danger grants Zephyr's fervent wish but at a high cost. Can Zephyr convince Astar to embrace his Tala side? Will she abandon her carefree nature to be the queen he needs? Or will Zephyr be forced to give Astar up?
Astar is a man who likes to adhere to honor and principles. Everything he does is for the good of the Thirteen Kingdoms. I adore the fact that Astar does not behave arrogant or pompous. He treats everyone with courtesy and politeness. I admire how Astar aspires to be like his late father. He never got the chance to know him, and he grew up on tales about him. What I like the most about Astar is his closeness to his friends. He knows each one's quirks and eccentricities. However, when they fight and bicker, he never chooses one over the other.
Zephyr is Astar's perfect opposite. She is a carefree and spirited woman, who marches to her on tune. I admire Zephyr's relentless persistence towards Astar. Part of it is selfish desire; however, she also wants to help him from cracking beneath the heavy pressure of responsibility. What I adore the most about Zephyr is how she is not impressed by prestige or power. She cares only for the person within and not his fancy title.
THE GOLDEN GRYPHON AND THE BEAR PRINCE is book one in Jeffe Kennedy's brand-new fantasy romance series, HEIRS OF MAGIC, a spinoff from her two series, THE TWELVE KINGDOMS and THE UNCHARTED REALMS. The story can stand alone. However, I highly suggest reading the previous series to understand the world and the trail it underwent to reach its current point. Beloved characters from the prior books make appearances throughout the story. It is nice to see how their lives turned out.
THE GOLDEN GRYPHON AND THE BEAR PRINCE is a fascinating fantasy tale of how two people manage to overcome opposition and danger to be together. I am so happy the author returned to this wonderful world of hers. I hope Jak and Stella's book is next!