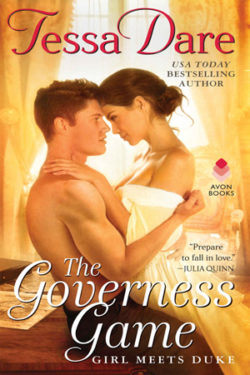 Author

Tessa Dare

Release Date

May 1, 2018

Publisher

Avon

ISBN/ASIN

B0756FRY63

Our Rating

Reviewed by

DianaMcc
Our Review
THE GOVERNESS GAME is the second book in the series GIRL MEETS DUKE, by Tessa Dare.
Chase Reynaud, a duke's heir, who wants no attachments finds his self saddled with two young wards. The girls are completely in love with their uncle. He is bound to send them off to boarding school come fall. I had to laugh numerous times as the youngest girl strives for his attention by having her doll fall deathly ill and sometimes die daily. Chase acts like he doesn't care and can't wait to send the girls off to school, and yet he attends every dolly funeral and dives into a pond to rescue the doll when she falls overboard.
Alexis repairs and sets clocks to pay her way in life. She has a deep-rooted fear of water having been aboard a ship which sunk taking her father with it. Because of this fear she ends up losing her satchel with her clock setting tools. Through a misunderstanding, Chase offers her a job to care for his unruly nieces until fall. He soon finds he is the one being reformed.
Alexis is hounded by some criminal relatives who want her to steal from the Duke. There is mystery and threats and appropriate humor.
The relationship between Chase and Alexis grows with many hot interludes, and stolen moments throughout the story.
I rarely cry when reading a book, but the one scene brought tears to my eyes.
Excellent book by an excellent writer.