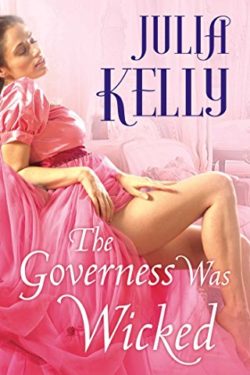 Author

Julia Kelly

Release Date

September 12, 2016

Publisher

Pocket Star

ISBN/ASIN

9781501139338

Our Rating

Reviewed by

Dottie
Our Review
Elizabeth Porter had one season before her father died, leaving her nothing. So she is forced to take on a position as governess to two sneaky, young girls. Elizabeth is happy with her position and she cares deeply for her charges. This is why she is alarmed when they seem to constantly fall ill and have need of the local young doctor's services. But as visits from the doctor become more frequent, Elizabeth begins to catch onto the girls' subterfuge. As handsome and charming as the doctor is, she can't help but be attracted to him. However, she thinks she is beneath him, believing that someone of her station would not be a good candidate for a wife for the doctor. Still, a kiss here or there cannot harm anything, especially since he is due to leave for America soon, or will it?
Dr. Edward Fellowes yearns for the fellowship to study in New York, which he has been offered, but he has yet to book his passage. His thoughts have been consumed by the beautiful governess hired by the Norton family. Although he knows he shouldn't, he looks forward to making house calls there, just so he can get a glimpse of her. Still, he doesn't feel he is worthy of her, since he isn't a member of the nobility, knowing that she is an aristocrat, even though she has been reduced to working as a governess. So whenever he attends the girls, he tries to not let Elizabeth know of his feelings for her.
Elizabeth loves the two young charges and tries to make up for the neglect of their parents who only seem to be interested in their son, the heir's, welfare. After calling wolf several times with faked illnesses, the girls end up contracting scarlet fever. The parents really show how low they can be when their only interest is to get the young heir as far away from the sickness as possible without regard for their two daughters. It is Elizabeth and Edward who stick by them. They struggle with helping the girls and getting little sleep. As the girls begin to recover, Edward and Elizabeth give into their passion for each other, only to be found by the master of the house. When she is turned out into the street and Edward does not offer her marriage, will she be able to get over his treatment of her? Will Edward finally come up to snuff so they can have a future together, or will her shame and the differences in their stations come between them?
An endearing tale, THE GOVERNESS WAS WICKED, the first book in award winning author Julia Kelly's GOVERNESS series, is an emotion-packed, passionate historical romance that will keep readers intrigued. The chemistry between Edward and Elizabeth is off-the-charts, but they have much to overcome and definitely need more communication if they are to find happiness together. I did like how they were able to work together and put the girls' welfare ahead of their own health, unlike the girls' parents, although it was a bit inappropriate to give into their passion while being the girls' caretakers.
This is the first Julia Kelly story I have read and I enjoyed it a great deal. Betrayal, misunderstandings, sickness, passion, humor and love combine to provide readers with a delightfully entertaining tale. Elizabeth has two friends who have her back whenever she needs them. These two are also governesses and the next two books in this series tell their stories. Keep your eyes open in October for the next installment, THE GOVERNESS WAS WANTON, and then in November, THE GOVERNESS WAS WILD will round out this charming, Victorian era trilogy. In the meantime, be sure to treat yourself to a copy of THE GOVERNESS WAS WICKED.