The Greek's Christmas Bride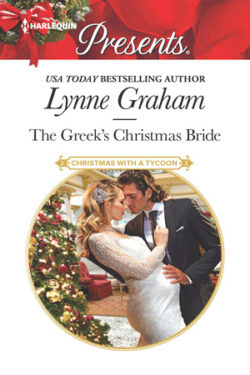 Author

Lynne Graham

Release Date

November 22, 2016

Publisher

Harlequin

ISBN/ASIN

9780373134885

Our Rating

Reviewed by

Michele Rioli
Our Review
What would you do if a rich, extremely handsome man unexpectedly asks you to marry him to fulfill some legal issues of his? That is what happens to Pixie Robinson in Lynne Graham's THE GREEK'S CHRISTMAS BRIDE.
When pompous Apollo Metraxis receives word that his dad has passed away, he discovers there is a proviso in his father's will. In order for Apollo to become heir to the stately Metraxis estate and fortune, he has to marry and have a child. Apollo loves his playboy status, and marriage makes him queasy. Even so, he takes matters in hand and seeks out the only probable woman who will fill the bill as his wife, have a baby. and then divorce. It is sweet, sharp, sassy Pixie Robinson. He needs to convince her of the good in his scheme, because love will not be part of the equation. Apollo learns about her brother's gambling debts and pays them off to get into her good graces. Only, Apollo doesn't know that Pixie is one spirited and stubborn lady. But maybe that is a good thing?
Pixie Robinson doesn't know what to make of the domineering, strikingly attractive, wealthy gigolo, Apollo Metraxis and his nervy, unprecedented proclamation. Oh, my! Apollo wants to wed her? She loathes him and really doesn't want to marry because of past abuse, but he is very good friends with Holly's husband. Holly is Pixie's best friend, so this slightly alters her opinion of Apollo. Shockingly, Pixie is attracted to him with his remarkably, perfect good looks. But, good heavens, this is life altering stuff! Will Pixie go along with this charade without love in the picture? Does Apollo fall for the charming, natural, feisty blond who, surprisingly, is a very intelligent woman with some ulterior motive?
THE GREEK'S CHRISTMAS BRIDE is an intriguing tale of a rich, handsome Greek man who needs to wed in order to retain his family's estate. You will flip when you read Ms. Graham's novel as self-assured Apollo Metraxis thinks any woman will choose to do his bidding. He learns fast that no woman likes to be treated crassly, and that respect and adoration go a long way in winning a woman over. Pixie is an excellent match for him with her won't-take-no-crap attitude. I just love the verbal sparring between them!
Ms. Graham pours a lot of emotional background into the reasons they each have such disdain towards marriage. Even so, this is one romance tale you won't soon forget! I fell in love with Apollo! THE GREEK'S CHRISTMAS BRIDE is skillful, snappy, and sparkling with romance!