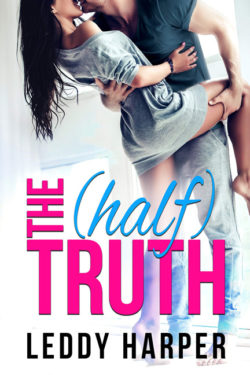 Author

Leddy Harper

Release Date

February 19, 2019

Publisher

Montlake Romance

ISBN/ASIN

9781503905184

Our Rating

Reviewed by

Jo
Our Review
THE (HALF) TRUTH by Leddy Harper is a quick read, but some of the characters are not to my liking. Tatum and Kelsey are best friends, but Kelsey doesn't always seem to have Tatum's best interests at heart. She gives her backhanded compliments and slight digs while also giving her ultimatums and often poor advice. Tatum seems to tell untruths or white lies based on what she thinks others want to hear, which gets her into more trouble than she ever thought. The last thing Tatum expects is to be called out on them.  
Each chapter is told from either Tatum's or Jason's viewpoints. Tatum and her ex-fiancee, who's also her boss at the restaurant where she works, definitely didn't have closure when he broke off with her. Jason's girlfriend of five years, whom he left behind in Las Vegas (where she's a showgirl) thinks they should reconnect. Jason starts a relationship with Tatum when he thinks she needs a friend. Their paths cross unexpectedly several times, although they've both been warned off by Kelsey to keep apart. 
There are twists and turns to the story along with a few laugh-out-loud moments. I liked Kelsey's and Jason's extended family and how they had Sunday lunch together every week, and how Tatum was always included. There is closure, especially with the epilogue, and a happily ever after I didn't expect. There are a few loose ends, but this isn't set to be a series–from what I can tell–though I can easily see it being one since there are more stories to tell.
Ms. Harper is a new-to-me author, and I will give some of her other books a try, hoping for characters more to my liking.