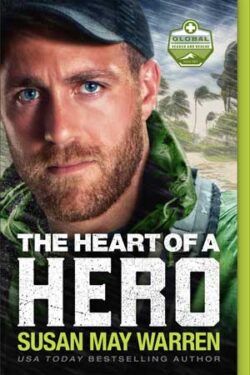 Author

Susan May Warren

Release Date

June 2, 2020

Publisher

Revell

ISBN/ASIN

9780800735852

Our Rating

Reviewed by

Jo
Our Review
THE HEART OF A HERO is the second book in the Global Search and Rescue series and it did not disappoint. My adrenaline was high and my heart was racing as the story unfolded in different locales. Set in Minnesota, the Florida Keys, Russia, and Italy, there were many plot lines woven nicely together. The descriptions made me feel like I was there.
In THE HEART OF A HERO, Aria and Jake take one step forward and many more back as their paths cross over and over again. They never seem to be on the same page at the same time as they deal with many perils, including hurricanes, people they befriend, injuries, illnesses, escaped inmates, and more.
There are so many twists and turns to the story, and every detail is important—whether currently or sometime in the future. We meet up with many of the characters we met before in Alaska (in the previous book) and even when they're not at the forefront, their stories are important. It was nice seeing how their lives were panning out once they left Alaska. The ending, while surprising, leads us into the next book in the series, THE PRICE OF VALOR, and I can't wait to read it.
If you like action and adventure stories with mystery and romance set in various locales, pick up this book. You'll be glad you did.