The Heiress and the Hothead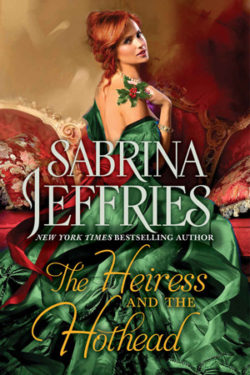 Author

Sabrina Jeffries

Release Date

November 28, 2016

Publisher

Pocket Star

ISBN/ASIN

B01D8VHPAU

Our Rating

Reviewed by

Dottie
Our Review
Lord Stephen Corry, the youngest brother of the Marquess of Knightford, cannot refuse his cousin's request for him to attend a house party where he will be able to meet Miss Amanda Keane, an American mill owner. Stephen has seen the devastating plight of mill workers, so he uses the articles he writes to expose the deplorable conditions. His articles in the London Monitor have not been well received by his peers. Now his is set on interviewing Miss Keane and proving that American mills are no better run than their English counterparts. Having agreed to help his cousin Clarissa make her suitor jealous by kissing her under the mistletoe, Stephen is startled to find himself instead kissing Amanda, who is wearing a coat identical to Clarissa's.
Amanda has already heard of Stephen and his newspaper. She came to England to get her brother to help her settle their father's affairs and to get some information about how English mills achieve their success so she can duplicate it in her own American operations. However, the English are wary of Americans stealing their ideas. Still, Amanda is delighted to accompany Stephen into the mills that she would otherwise not be able to enter.
Despite believing that Amanda is another money grubbing mill owner who treats her workers poorly, Stephen cannot deny the attraction between them. But as he takes her around town to visit the mills and their workers, he begins to wonder if he was hasty in his assessment. Surely, he could not be falling in love with the woman he originally thought she was. Can Stephen and Amanda, who come from two different worlds, find lifelong happiness together?
A delightful yuletide tale, THE HEIRESS AND THE HOTHEAD, the latest novella in New York Times bestselling author Sabrina Jeffries' SINFUL SUITORS series, is a charming, sexy historical romance. There is a smoldering chemistry between Stephen and Amanda and though these two start out with their own agendas, their relationship soon turns to love. There is one love scene that takes place in an unusual situation and place, but considering what they were going through at the time and their expectations of their future, I guess it makes sense. This sole sex scene is more implied than detailed. I enjoyed watching their relationship evolve from being combative to one of love.
This story was originally released in the multi-author anthology entitled WHAT HAPPENS UNDER THE MISTLETOE, which was released in October 2015. Amanda is the sister of Jeremy Keane, who is featured in the first book in this series, THE ART OF SINNING. This short story can easily be read as a standalone, but for additional entertainment and insight into the series, you may want to also pick up the other books in this collection, including THE ART OF SINNING, as well as THE STUDY OF SEDUCTION, THE DANGER OF DESIRE and the upcoming THE PLEASURES OF PASSION, which releases in June 2017.