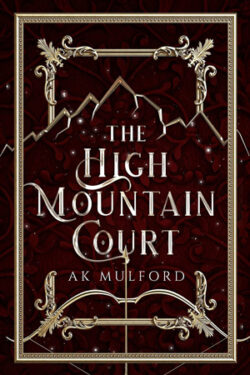 Author

A.K. Mulford

Release Date

August 10, 2021

Publisher

AK Mulford

ISBN/ASIN

B096ZDPYLH

Our Rating

Reviewed by

Raonaid
Our Review
Remy is a red witch in hiding. She and her brown witch companions evade the witch hunters searching for them. Remy tries to flee when she encounters four mysterious fae in the tavern she works at. However, she finds herself coerced into accompanying them on their quest. Remy cannot fight her growing attraction to Hale, the Prince of the Eastern Kingdom. Will Remy and Hale find the magical artifacts in time? Can they successfully elude the Northern Kingdom? And what will Remy learn about herself?
Hale Norwood is the illegitimate son of the Eastern Kingdom's monarch. He needs a red witch to help find two important magical artifacts to thwart the Northern Kingdom's domination. He and his companions run across Remy in a backwater tavern. Hale presses her to aid him on his quest. Something about the red witch calls to him. What dangers await Hale and Remy on their quest? Can they keep the Northern Kingdom from ruling the world? Will Hale betray his father and kingdom to protect Remy?
Remy shows such incredible growth throughout the story. As the story progresses, she discovers the person she is meant to be, and she comes into her own. I admire Remy's determination to learn how to fight and defend herself. She did not want to be dependent on others for protection.  What I like the most about Remy is how she encouraged Hale to reunite with his mother. She wanted him to understand how fortunate he was to still have her in his life.
Hale steadily won me over. At first, I thought he was too pompous and rude, especially towards Remy, Heather, and Fenrin. However, I started to soften towards him once I learned more about him. I empathize with Hale's need for his father's acceptance. He tries so hard to please the man, only for naught. What I like the most about Hale is how he encourages Remy to find herself. He gives her some helpful nudges along the way.
THE HIGH MOUNTAIN COURT is the first book in A.K. Mulford's fantasy romance series, THE FIVE CROWNS OF OKRITH. It is also the author's debut book. I like the author's creative take on witches, especially how they are distinguished by color, and each caste has their own specialty. The story lagged in places, especially close to the end, but I understand the author needed the time to set up the way her world worked. I must admit that I do like the side characters Talhan and Briata. They made the story funny and entertaining.
THE HIGH MOUNTAIN COURT shows such incredible promise for the fantasy romance genre. It is nice to see another author venturing into my favorite genre. I am curious to see what further adventures await us in this world.