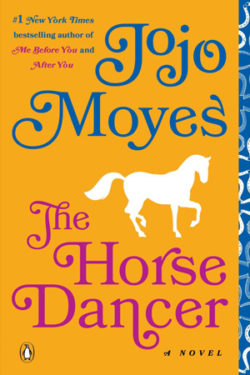 Author

Jojo Moyes

Release Date

April 11, 2017

Publisher

Penguin Books

ISBN/ASIN

0143130625

Our Rating

Reviewed by

Rhea Pannell
Our Review
Sarah's favorite thing in the world is her horse, Boo. When they're together, the rest of the world doesn't exist. They create their private, secret paradise in a park in the middle of busy, frenetic London.  When she's not with Boo, her world isn't that much bigger, consisting of herself and her grandfather, Henri. Henri is responsible for her love of horses as he is a lover of horses himself. Henri taught Sarah how to create magic with a horse, how to make a horse dance, and how to quietly listen to what Boo whispers in her ear. Henri sees the chance he missed in Sarah and has made the decision to take Sarah and Boo back to where it all started for him: Le Cadre Noir.
Then tragedy struck. Paralyzed by a sudden stroke, Henri is confined to a hospital bed and Sarah's world has been thrown into chaos. She must now balance school, home, Boo, and her grandfather without anyone finding out a fourteen-year-old girl is completely on her own. When solicitor advocate, Natasha Macauley, stumbles across Sarah, Natasha isn't quite sure what to think about the independent young girl. Sarah accepts Natasha's help, but doesn't share the most precious secret in the world with her new caregiver – Boo. Sarah has traded one perilous balancing act for another, not realizing that keeping secrets will cause it all to come crashing down.
A story about a girl and her horse, Jojo Moyes creates an equine world hidden in the heart of London. She creatively weaves the story of Natasha Macauley and her estranged husband, Mac, into the story of Sarah and her grandfather, Henri Lachapelle, and produces a heart-warming and tragic tale. Jojo pulls the reader into the mind of a teenager who is fighting the world and causes us to feel all the love, happiness, pain, and heartache Sarah goes through in this wonderfully written story.