The Inconvenient Elmswood Marriage (Penniless Brides of Convenience Book 4)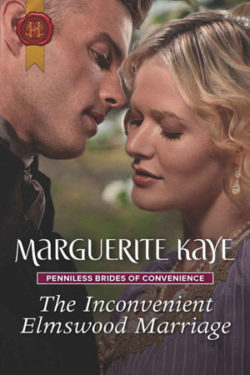 Author

Marguerite Kaye

Release Date

January 1, 2020

Publisher

Harlequin HIstorical

ISBN/ASIN

9781488063664

Our Rating

Reviewed by

Jo
Our Review
THE INCONVENIENT ELMSWOOD MARRIAGE is the fourth and final book in the PENNILESS BRIDES OF CONVENIENCE series, and it did not disappoint. The prologue takes place eleven years before the start of the book, which is an important detail and gives the background needed (especially if you haven't read the other books in the series).
The story drew me in from the beginning. There were several storylines that spun off in different directions but were tied together nicely in the end.
It was nice to see Kate and Daniel together even if it was after she had to nurse him back to health. They definitely have a marriage of convenience since he's been away in the Foreign Service for the whole of it. They have to get to know each other, but Kate sees Daniel as others never have. And with his job always pretending to be someone he's not, that surprises him.
As we are immersed in the story, we get to know the two of them better. I enjoyed seeing the estate through her eyes since she has such visions of what the house and the grounds should look like after being left in disrepair. Kate also was a visionary concerning the farms and the tenants who run them. I liked that Daniel could show her some of his beliefs after being away from England for so long.
The story had plenty of twists and turns, some expected but most were not. There were surprises along the way as well as roles that Daniel and Kate had to play as Lord and Lady Elmswood. The story had wonderful closure, especially with the details contained in the epilogue.
Ms. Kaye is one of my favorite authors of historical fiction. She has a way with words that helps form pictures in my mind and often draws in characters from her other books, which is a clever approach. Her inclusion of historical notes at the end of the book are always full of interesting and factual information that helps put what I've read into context.  
A Recommended Read!