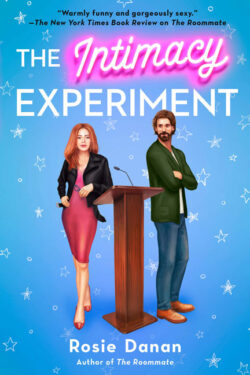 Author

Rosie Danan

Release Date

April 6, 2021

Publisher

Berkley

ISBN/ASIN

9780593101629

Our Rating

Reviewed by

Jo
Our Review
THE INTIMACY EXPERIMENT is the second book in THE ROOMMATE series, and it is just as steamy as the first book, THE ROOMMATES. It was a little slow for me to get into since I had to feel my way through the characters before they grew on me. Naomi is a sex worker and co-owner of her own business, which has sex as its core. She wants to break into public speaking and gets a chance through a young and single rabbi. He works at a slowly dying synagogue that needs to grow and attract new members. When they start a seminar series entitled Modern Intimacy, not all are thrilled. But it takes off, and so do their feelings for each another.
I thought it was interesting how much of the story takes place in his synagogue and how much religion and biblical stories are brought in as well.
There are a lot of steamy moments and innuendos throughout the story as we get to know both Naomi and Ethan and their beliefs. But we also get to know them and their frailties and see how good they are for each other, although an unlikely pairing. There are emotional moments throughout, but also the reality that people wanted to hear about intimacy.
There are positive and negative moments in the story, with many emotionally charged scenes. We meet up with characters we've met before and see how Clara and Josh's relationship has progressed. There's a nice flow to the story and a wonderful romance, which concludes in an epilogue. I particularly love the cover.
Ms. Danan has taken me out of my comfort zone with both of her books, and I'll be back for more since she has an interesting writing style that grabbed me.