The Invisible Husband Of Frick Island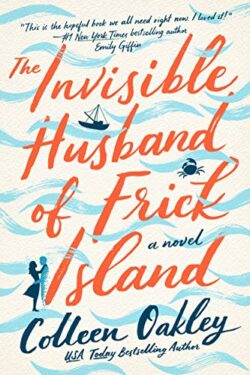 Author

Colleen Oakley

Release Date

May 25, 2021

Publisher

Berkley

ISBN/ASIN

9781984806482/B08H15ZCWR

Our Rating

Reviewed by

Michele Rioli
Our Review
Heartfelt emotions and endearing characters populate Ms. Oakley's brand new novel, THE INVISIBLE HUSBAND OF FRICK ISLAND. Life on the island is laid back, moves at a slow tempo, and risks being called antiquated. This is the rich tapestry that weaves a beautiful story of caring townsfolk, magnificent scenery, with smells of ocean air and more. Piper Parrish, a pretty lady who is grieving for her husband who died too young, charms the towns inhabitants who all look out for one another. She is dealing with life and all its setbacks, but is determined to carry on like nothing ever happened. Thus, Piper talks as if her husband Tom is still alive. The whole town indulges her and acts as if Tom is really there with her.
Anders, a young journalist, is floundering at his job. He needs that big break, that will push him into the big leagues. He has a small podcast on the side, that is viewed by a handful of people. What he wouldn't give for that star story, that would draw people in to watch his podcast.
One day Anders goes over by ferry to cover the annual cake walk festival at Frick Island. Only, he finds that the people are standoffish and rude to him. Then, he receives an odd email from an unknown sender asking him to cover the real story of the island. He wonders about the strange email. What is the real mystery behind Frick Island? He pulls up his big boy pants, braves the inhabitants strange behavior and secretly investigates and interviews the people and events, revealing a cover-up so big it's mind boggling. What does he find out?
THE INVISIBLE HUSBAND OF FRICK ISLAND will cast a spell on you with its unique plot, quirky characters, emotional issues and its earthy location by the sea. I was completely captivated by Piper's tale and Anders quest to find out more behind the history of the island and the diverse townspeople, especially Piper. Anders develops feelings for her as he pokes and prods into her life.
Will Ander's podcast help the people of Frick Island and bring closure for Piper? Also, does Anders's capture that elusive big story? I was moved to tears, so keep Kleenex nearby. Anders and Piper's relationship is special, not overly romantic but sweet. The author expertly reveals slowly the mystery, reeling me in with effortless charm and seafaring anecdotes. I absolutely adored this story! THE INVISIBLE HUSBAND OF FRICK ISLAND will snare the reader with its lush setting and captivating characters.