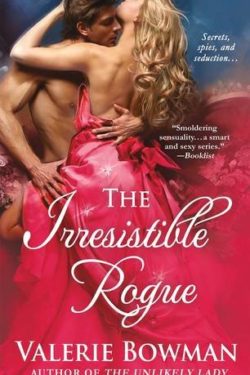 Author

Valerie Bowman

Release Date

November 3, 2015

Publisher

St. Martin's

ISBN/ASIN

978-1250072573

Our Rating

Reviewed by

Dorine
Our Review
THE IRRESISTIBLE ROGUE by Valerie Bowman starts off funny, cute and wacky – all the things I love about a house party. Daphne Swift is planning the gathering where she hopes to announce her engagement to the handsome and wealthy Lord Fitzwell. That is, if she can convince him to ask for her hand in marriage, plus get rid of the one minor detail that she's already married to a completely dashing rogue who decides to invite himself to her festivities.
Half the fun of this novel is getting to know the characters as they're introduced during preparations for Daphne's party. Lord Fitzwell is a fusspot and a bore, so I never really thought that Daphne could be attracted to him. She's rather methodical about finding a husband and it's entertaining to watch her realize she already has one perfectly suited for her personality. Daphne's means of finding a husband are in direct opposition of her true sense of adventure. It's predictable to expect Daphne to burst out of the tight control she has placed on herself, but comical to watch her really muck it up.
Captain Rafferty "Rafe" Cavendish is a spy whose previous mission did not end well, leaving him with guilt and a score to settle with a group of Russians. His culpability over the death of Daphne's brother as well as his surmounting feelings for Daphne keep Rafe in a good amount of turmoil. One thing is sure, he can't imagine letting Lord Fitzwell have Daphne no matter what else happens.
I love a house party so I was immediately entertained by this story. I haven't read the rest of the books in the PLAYFUL BRIDE series, but I'm sure fans will recognize many of the characters who assist Daphne with her dilemma. Daphne continues to boldly go forward, even against the advice of her family, and I knew she'd eventually cause a fiasco. Even though she did what I expected, I had fun watching her make a mess of things and then try to figure a way out of it.
One character that was cute at first, then became annoying was twelve-year-old Delilah. She overdid it while practicing her French, using the same phrase over and over, as well as disobeying her governess. She was a bit over the top. Because Delilah was consistently with Daphne in the beginning, and they both had names beginning with the letter D, it was easy to become confused. Delilah was a good character to rile things up, but I would have preferred a bit more subtlety in depicting her bratty tendency.
There's a plot-line that was clever but sometimes unbelievable. I had to suspend my inner critic and just enjoy the main couple, who eventually won me over enough to appreciate their journey to a happy-ever-after. The author does have a good explanation at the end of the book about her philosophy in regards to how she creates an entertaining story, and I agree that it is exactly what she did. Anyone who enjoys a fictional tale which closely resembles history, where the author also takes enough creative license to add to the fun, will surely enjoy this book as much as I did.
As the fourth book in a series, this novel was easy enough to understand without reading the books prior. I think it would have been more enjoyable to be reunited with favorite characters, so if you love a fun-loving series, I suggest that you start at the beginning – something I'll look forward to doing myself. There seems to be a lot of camaraderie between the men and women in this series, something that I felt I missed appreciating more without reading THE UNEXPECTED DUCHESS, THE ACCIDENTAL COUNTESS and THE UNLIKELY LADY.
THE IRRESISTIBLE ROGUE by Valerie Bowman is an entertaining romp that twists up the ton with pirates, a knife-throwing lady, spies and a couple who earn happiness while in servitude to the crown. For some laughter and adventure, THE IRRESISTIBLE ROGUE will satisfy.