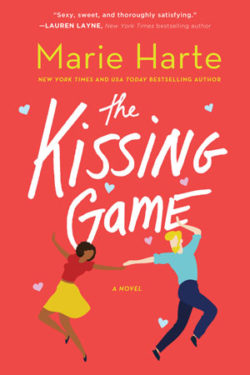 Author

Marie Harte

Release Date

February 4, 2020

Publisher

Sourcebooks Casablanca

ISBN/ASIN

9781492696988

Our Rating

Reviewed by

Michele Rioli
Our Review
Tempting, tantalizing and touching, THE KISSING GAME is definitely a romantic and steamy novel. It stars a beautiful beautician, Rena Jackson, who recently quit bar-tending to open her own salon. She is attracted to a good-looking German giant, Axel Heller. Axel is tall, muscular and has a soft heart, especially towards Rena. Rena loves romance and Axel is shuttered tight, so how do you melt the most formidable and stubborn guy? Challenge him and hope romance will follow. Will it work?
Axel, an extremely fine-looking man, wants Rena as his girl but doesn't know the first thing about romance. It's been a year and he still doesn't have the nerve to ask her out. If he doesn't make a move soon, he's going to miss out on a lovely lady who is looking for that one special man who will woo her. Axel does have anger issues along with emotional scars, which contributes to his broody nature. Can Rena help heal his wounds? Plus, when he offers to kiss Rena's luscious lips, he hopes she will beg for more. Will his one kiss seal the deal to a sincere relationship?
THE KISSING GAME is a smart, sexy story that is equally feisty, funny and refreshing. Nobody combines sass, charm and a sizzling story better than Ms. Harte. The bantering stars, Axel and Rena, are clearly made for each other and their attraction is off the charts hot! It's a story about the many pitfalls of love and its consequences. Ms. Harte believes in strong characters and this story has a lot. There is fighting, arguing, and a compassionate zeal between the stars, Rena and Axel, along with their friends and family members, plus there is an added dangerous element. This story blends a combination of colorful characters, gossipy small-town charm, and a spicy story that will make you crave a cold beer, it's so freakin' hot! THE KISSING GAME is fantastic fiery fun!

Recommended Read