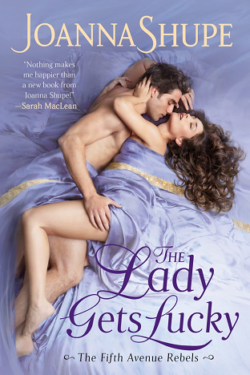 Author

Joanna Shupe

Release Date

October 26, 2021

Publisher

Avon

ISBN/ASIN

9780063045057/B08TWY3S14

Our Rating

Reviewed by

Michele Rioli
Our Review
Heady chemistry sizzles between a ravishing rogue who teaches a timid lady how to turn temptress in Joanna Shupe's new novel, THE LADY GETS LUCKY. Things must change fast, if bashful, beautiful, heiress Alice Lusk wants to snare a man of her own choosing. Her offensive, dominant mother utters an ultimatum that Alice must make a match soon or else.
Alice wants to marry for love. She meets Christopher Ward, Kit, a dashing scoundrel at a dinner party. Alice flushes with awareness at his intoxicating masculinity. Desperate times call for desperate measures. Alice's plan is to persuade Kit to show her all about the art of feminine wiles. It's a simple plan. What could go wrong?
Kit is stunned when a timid, lovely lady asks for his help in seducing a man. He is opening a supper club and learns Alice is friends with a well-known chef. He strikes a deal with her. He will give her lessons in flirting in exchange for five star recipes he can use at his supper club. Only, Alice blooms under his tutelage. His heart is in danger of falling for dainty, tantalizing Alice. Alice is totally enamored with Kit's whole persona. She definitely wants lessons in romance, but somehow she has fallen for a roving rascal. But is it true love?
THE LADY GETS LUCKY is a captivating blend of suspense, charm and wit. Ms. Shupe 's writing is scrumptious and I was totally obsessed from page one. The plot sparkles between an inconspicuous heiress and a notorious rogue. The story left me sighing, smiling and falling in love with the characters. There are spellbinding dips, spins and twists. Ms. Shupe's tale of the dangers and delights of risky passion will fulfill and enchant hard core historical romance readers. This is a wonderfully rich, romantic story filled with strong characters. This story struck a chord in my heart, as shy Alice grows into a confident woman. I absolutely adored it! THE LADY GETS LUCKY is truly a tender, perfect story. A keeper for sure!