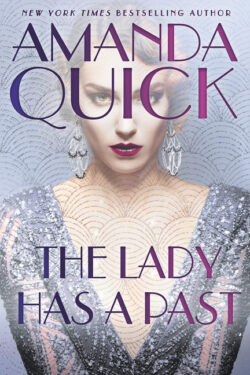 Author

Amanda Quick

Release Date

May 4, 2021

Publisher

Berkley

ISBN/ASIN

978-1984806888

Our Rating

Reviewed by

SJ
Our Review
A historical romantic suspense that truly delivers, A LADY WITH A PAST is an engaging thrill ride from NYT bestseller Amanda Quick.
Lyra Brazier has just moved to Burning Cove, CA, and is an apprentice investigator to the enigmatic Raina Kirk. Raina has taken a chance on her, and Lyra is both glad and determined to do her best. But when her boss goes missing, Lyra finds that the investigative business is a lot tougher than she thought.
Raina's lover, a mysterious man with supposed ties to the underground, insists she take Simon Cage with her to find out what happened to Raina. So Lyra and Simon follow Raina's steps and go undercover at a resort and spa that is much more than it seems.
The pacing is terrific and the suspense intriguing as Lyra and Simon work together to find out what happened to Raina. Why have so many people gone missing? What did Raina intend to solve when she went to the spa? And how is Simon, a calm, mild-mannered, antiquarian book dealer so very good at confronting danger? Just who is this man who makes her heart race and can sense what normal people can't?
There's a hint of paranormal activity in THE LADY HAS A PAST, which only serves to heighten the action. Amanda Quick returns to the world of the glittering 20s and old glam Hollywood with this thrilling mystery that's at turns romantic, adventurous, and mysterious. Don't miss out! This is a killer of a great book!