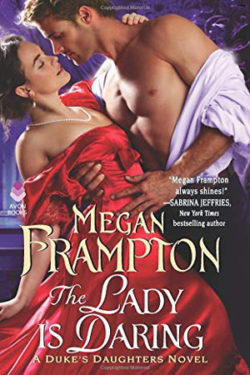 Author

Megan Frampton

Release Date

September 25, 2018

Publisher

Avon

ISBN/ASIN

9780062666673

Our Rating

Reviewed by

Vanessa E.
Our Review
If you enjoy a story where the heroine jumps in with both feet—or should I say steals a carriage with an unsuspecting Peer of the Realm inside—then Megan Frampton's THE LADY IS DARING will not disappoint you.
Lady Ida Howlett is determined to track down her wayward sister, Della, and reunite her with her family. Armed with a clue from her sister's most recent letter, Lady Ida absconds with a carriage and gains an unexpected traveler, Bennett, Lord Carson, to join her on this adventure.
Bennett is no stranger to the Howletts, having almost married into the family before. Intrigued by Ida's devotion to her sister and wanting to make sure she is not harmed on her journey, he joins her and discovers so much more about the intelligent and beautiful lady he grows closer to as they travel.
As impediments occur, Ida and Bennett come to rely on each other more and more, and this reader thoroughly enjoyed their relationship's wild ride. I know you will enjoy it too.
A Recommended Read!