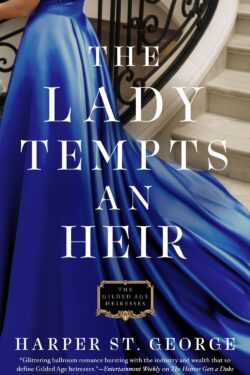 Author

Harper St. George

Release Date

February 22, 2022

Publisher

Berkley

ISBN/ASIN

9780593197240/B095MNVSWQ

Our Rating

Reviewed by

Michele Rioli
Our Review
Steamy and secretive, THE LADY TEMPTS AN HEIR, is sensational! Lady Helena March, a gorgeous widow, is dealing with parental pressure and worrying over finding funding for her charitable organization, The London Home for Young Women. Sadly, society frowns upon socializing with fallen women, so Helena is desperate to find anyone who will contribute to her cause.
Devilishly dashing, Maxwell Crenshaw, an American industrialist, is visiting his father, who recently had a health crisis. His father insists Max is to wed soon or else his father will put a stop to his sister's plans for a new foundry. He wants Max to produce an heir to carry on the legacy. What will Max do?
Max isn't willing to cave to his father's demands. He also wants to help his sister keep her plans. He decides to form an engagement ruse with the beautiful Lady Helena, who he can't stop thinking about. Electric sparks of attraction have been sizzling between them for a while. Lady Helena agrees to his plan who is looking to save her charity. Hopefully her fiance', Max, will appease her parents. Will this fake agreement open their hearts to true love? Or will widow Lady Helena's painful past drive them apart?
Witty banter, rich family dynamics and a spicy romance will delight readers in Ms. George's third entry in The Gilded Heiresses series, THE LADY TEMPTS AN HEIR. A fake engagement between a widow and an heir totally captured my heart! Lady Helena has big plans to establish a home for young women and their illegitimate kids. Max's father pushes for a wedding. With pressure from their parents, Max and Helena agree to a fake engagement, hopefully securing a solution to both of their problems. Only it doesn't go as planned. Fireworks spark between them when they are together and they make a lovely couple. The author is a favorite of mine with her soaring storytelling and passionate lovemaking. Be still my beating heart! Definitely something spicy is in the air with THE LADY TEMPTS AN HEIR!