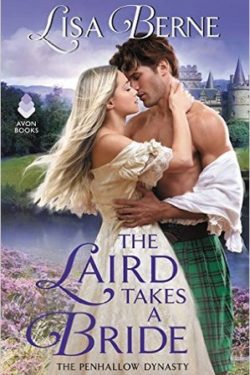 Author

Lisa Berne

Release Date

August 29, 2017

Publisher

Avon

ISBN/ASIN

9780062451811/B01NCHXLES

Our Rating

Reviewed by

Michele Rioli
Our Review
Marriage to a stranger? Oh my! Fiona Douglass is swiftly swept into a whirlwind of surprises in THE LAIRD TAKES A BRIDE. One fortuitous day she finds out that Alasdair Penhallow, laird of his clan and master of Scottish Castle Tadgh, is in search of a suitable, entitled wife and since Fiona is single, her father declares she must go or else. Fiona is not interested marrying someone, especially since her heart is still tender from losing the love of her life. Her intended, Logan Munro, wed her younger, beautiful sister instead. Blast it all! Fiona loves her sister, but Logan, well… she is mad at him and severely heartbroken. No more giving her heart to a cad of a man. Will Fiona ever find deep down true love?
Alasdair Penhallow, a dashingly handsome man, learns that a decree states that the Chieftan must marry thirty five days after reaching his thirty-fifth birthday. Oh for heaven's sake! His life is fine, really more than fine the way it is right now. Only the decree dictates punishment if not followed. This doesn't leave him any option. His Uncle Duff assures him that even while married, your life doesn't really need to change. Alasdair loves his free-wheeling way of life, and he doesn't intend to give it up.
Fiona is amongst four eligible candidates to marry Alasdair Penhallow. However, she is not worried. Alasdair won't chose her after she meets her competition, and is confident in her spinsterhood. Unfortunately, the winds of Fate decide otherwise. When a devastating event occurs, Fiona and Alasdair have no recourse but to wed. Neither is pleased, not one tiniest iota. Watch out, because sparks will fly! Only, Fiona and Alasdair are severely tested in their relationship and romance department. Will they see the error of their ways before something bad happens?
THE LAIRD TAKES A BRIDE is cleverly charismatic, ravishingly rousing, and filled with fabulous twists. Alasdair Penhallow weds Fiona Douglass much to her consternation. They do not like each other. There isn't even an immediate attraction. They both loathe the stupid decree and refuse to make the slightest effort to make the forced marriage work. The wedding night is a complete disaster. Alasdair is aloof and distant. Fiona is independent and a force to be reckoned with, even when Alasdair repeatedly tries to get her to interact. The author brilliantly draws a parallel between Alasdair and Fiona's backgrounds and what shaped their personalities. The relationship between Alasdair and Fiona shifts several times, and their feelings are genuine. I loved how Ms. Berne recounts how life shaped them, perhaps too sorrowfully. Underneath it all, love blossoms and grows. The prose is sumptuous, the descriptive allegories of Scotland are breathtaking, and romance sneakily makes its entrance into the story. I applaud the author's excellent plotting. There are a lot of characters, plus even animals that add a nice familial touch. What a grand, subtle, romantic tour-de-force! THE LAIRD TAKES A BRIDE is an incredibly arresting tale filled with intelligence, foreboding, suspense and a beautiful romance. Prepare to be amazed!
A Recommended Read!