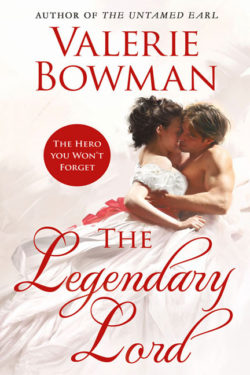 Author

Valerie Bowman

Release Date

November 1, 2016

Publisher

St. Martin's Press

ISBN/ASIN

9781250072597

Our Rating

Reviewed by

Dottie
Our Review
When Sarah Highgate's father, the Earl of Highfield, betroths her to a man she abhors, she is beside herself. So she escapes, dressed as a maid, running off to her father's cottage in Scotland and not caring about ruining herself if it means her fiancé will call off the wedding. However, Sarah has never been to her father's cottage before and she winds up at a stranger's cottage. The caretaker assures her that the owner won't mind her presence there. But when she is left alone after the caretaker takes her sick chaperone to a doctor, and the owner suddenly appears, calling her a thief, Sarah shockingly faces him down with his own sword.
After a sennight on the road from Bath, Christian Forester, Viscount Berkeley, arrives at his Scottish cottage, tired and hungry from his travels. The last thing he expects is to find a young woman napping on his bed while a pot of stew simmers nearby. It seems she has made herself at home, leaving him wondering who she is and where is his caretaker. Just as he discovers her reason for being in his cabin, they are forced to wait out the winter storm, unchaperoned in the isolation of his hunting lodge. In the past he has attended many balls in London, always looking for a wife. But each time his attempts left him stuttering whenever he was confronted by a beautiful woman and she usually wound up as his friend. For some reason, he doesn't have the same reaction to Sarah, despite her beauty. When he discovers that she is the belle of the Season, the complete opposite of him, he enlists her aid in helping him to find a wife. In exchange he will make sure she arrives home without any scandal attached to her name.
As the two wait out the storm, a friendship develops and feelings for each other emerge. But, thanks to her parents, Sarah is betrothed to a marquess. Sarah has no desire to wed, but turning Christian into the most sought after bachelor of the season makes her realize the extent of her feelings for him. Is there a way to end her betrothal without creating a scandal so she can have a life with Christian, or is she setting herself up for heartache?
A scrumptious tale, THE LEGENDARY LORD, the sixth book in bestselling author Valerie Bowman's PLAYFUL BRIDES series, is a deliciously witty, sexy historical romance that will keep readers turning the pages. Sarah has always been an obedient daughter, but being forced to betroth a man she loathes has made her brave, even risking scandal to end it. Still, she knows that her parents will only let her marry a man of title and she does not know that Christian is of the aristocracy. Meanwhile, Christian always seems to end up being a friend to beautiful women rather than a love interest and he has friendships with some of society's most high ranking women. He is enjoying his time with Sarah and doesn't want to let her know that he is a viscount. Will this discovery change the way she feels about him?
This novel can be read as a standalone, but for further insight into the characters in this series, I suggest reading the other books of this collection, including THE UNEXPECTED DUCHESS, THE ACCIDENTAL COUNTESS, THE UNLIKELY LADY, THE IRRESISTIBLE ROGUE and THE UNTAMED EARL, as well as the novella, THE UNFORGETTABLE HERO. Fans of this series will enjoy revisiting the characters from previous books. Sexy, sassy and superbly entertaining, this novel is a must read for fans of historical romance! Treat yourself to a copy of THE LEGENDARY LORD today and escape into the imaginative world of author Valerie Bowman!