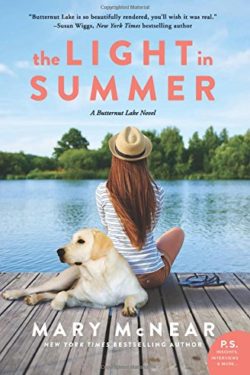 Author

Mary McNear

Release Date

June 20, 2017

Publisher

William Morris

ISBN/ASIN

9780062399373

Our Rating

Reviewed by

Diana S
Our Review
Billy Harper is the local librarian in Butternut Lake, a summer destination in the northern Midwest. Billy has lived here for five years and it is where she feels most at home. Her teenage son, Luke, has become a precocious teenager who doesn't converse with his mother often. Billy finds comfort in her books and the summer light makes everything clearer.
Cal Cooper has come to Butternut Lake to visit his older sister and to get over his recent betrayal by his soon-to-be ex-wife. His wife lied to him about something that is very important to him and he can't forgive her.
When Billy meets Cal and they feel an instant spark, even though they just met, it seems like fate. Billy has never had a serious relationship with any man. Billy is having trouble with Luke. His growing pains keep Cal and Billy from getting closer.
This coming-of-age story features a mother and her son's relationship. It combines small town living with family dysfunction and teenage angst in a quick-paced, enjoyable novel. This is the first book I have read by Mary McNear but it will be worth my time looking for more.