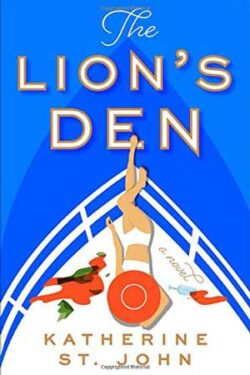 Author

Katherine St. John

Release Date

June 30, 2020

Publisher

Grand Central Publishing

ISBN/ASIN

9781538733639

Our Rating

Reviewed by

Jo
Our Review
THE LION'S DEN is filled with intrigue and suspense that had my heart racing! When Summer invites her mom, her sister, and a few friends to her billionaire boyfriend's yacht for a sail to the French Riviera to celebrate her birthday, a good time seems like it should be had by all.
The book is confusing at times, as we travel from the past to the present, and between the U.S., the Mediterranean, and Mexico.
Summer is not a nice person, something Belle learns way before agreeing to go on the trip. She's a user and spins everything to put herself in the best light, always getting what she wants. Belle isn't strong enough to fight her, which makes for some unfortunate though interesting internal conflict.
A complex cast of characters board the ship. I liked Eric, an artist, who is a friend of both Summer and Belle (the latter a secret friend.) He's an integral part of the story with unknown connections to other characters but wasn't on the boat.
There are many twists and turns to the story, involving a possible murder and stolen jewelry. Unfortunately, Summer is true to form in her selfish actions. Some things seem too easy for Belle to figure out. Is she getting help from someone we don't expect? The descriptions are vivid and life aboard the yacht is very well drawn. But the friendships didn't seem quite real. There is some closure with surprises along the way, but the book ends too abruptly for me.
Ms. St John is a new author and this is her debut novel.  I look forward to reading other books she writes.