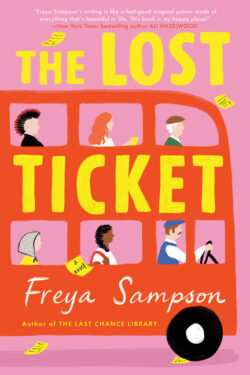 Author

Freya Sampson

Release Date

August 30, 2022

Publisher

Berkley

ISBN/ASIN

9780593201411

Our Rating

Reviewed by

Jo
Our Review
THE LOST TICKET has a whimsical cover, and much of the story was portrayed that way. Libby and Dylan work together to find the girl Frank had a chance meeting with on Bus 88 sixty years before. She's his lost love. This is a heartwarming tale of love lost and found, and the friendships made on simple bus rides over the years. 
The story is set mainly in London. The friendships portrayed in this story are heartwarming. Dylan is Frank's caregiver since Frank has dementia and is fighting his daughter about being evaluated and going into a home. Libby encounters the pair on Bus 88. We get to know Libby's family since she's currently living with her sister (after Libby's boyfriend of many years broke up with her and she had nowhere else to go.) She's lucky to be rid of Simon, but of course he has his own agenda and is seemingly trying to destroy her life even though they are no longer together. Her relationship with her sister is sometimes fraught, and she can do nothing right in her mother's eyes, though her nephew is a cutie and wise beyond his years.
There are many storylines being woven together as the search is on for Frank's lost love, and Frank doesn't even know her name! Frank has touched many lives through his rides on the bus. He rode it every day for the sixty years he's been looking for her. He gets to meet some new people through his search, and some of the stories being told are touching. The story has wonderful closure and really satisfies.
Ms. Sampson takes us on trips around London, pointing out many sights along the way.  The characters have a realism to them and seem to come alive. I love the way their lives intertwine, their unlikely friendships delightful. And I was surprised by the ending. Next up for me will be Ms. Sampson's first book, THE LAST CHANCE LIBRARY.