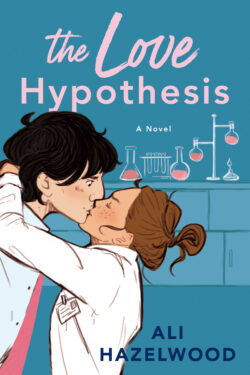 Author

Ali Hazelwood

Release Date

September 14, 2021

Publisher

Berkley

ISBN/ASIN

9780593336823/‎B08T6XN4FP

Our Rating

Reviewed by

Michele Rioli
Our Review
THE LOVE HYPOTHESIS is utterly chaotic, very romantic, and a simmering Bunsen burner of love. This bewitching book stars a nerdy scientist, Olive Smith, who is beautiful, intelligent and mistrustful of men. Her bestie, Anh, along with other bestie Malcolm goad her into giving dating a chance. It's been a while, but Olive is busy perfecting her science experiments for her cure on pancreatic cancer as a third-year Ph.D candidate at Stanford. Romance is on the back burner, so to speak. Anh likes Olive's ex-boyfriend a lot, but won't date him, girl code thing. Olive assures her, she is dating someone, to get Anh to ask her ex out. When Anh walks by, Olive jumps and smooches the nearest dude, who just happens to be brainy, nasty professor, Adam Carlsen. What did she just do?
Hmm…Adam is mystified when Olive kisses him in the hallway but heck, she is really pretty. Olive privately asks him to pose as her boyfriend, to prove to her best friend she has a man in her life. Adam agrees to help her out. Olive thought it would be like pulling teeth, when he actually says yes. Could there be a soft side to tough, sarcastic, acerbic Professor Carlsen?
At a prestigious science conference, Olive's presentation is shanghaied, but Adam shocks her with his loyalty and influence. Time spent with him at the coffee shop each week is making Olive yearn for something more with the hunkalicious Professor. Likewise, Adam looks forward to spending time with lovely Olive each week. Collegiate colleagues encourage him towards a social life to boost his standing at Stanford, since he seeks funding on a special research project. Could it be these two crazy, cozy lovebirds are the perfect match?
Ms. Hazelwood pens a ravishing romance story in THE LOVE HYPOTHESIS. Wonderfully written and perfectly plotted with chaos aplenty! A cute girl haphazardly kisses a fire breathing dragon of a professor. Confusion ensues and there is love and laughter too. I loved everything about this book! It's dreamy, awe inspiring and very insightful. I learned a lot about the science community. Score a big one to Ms. Hazelwood on her intellectual prowess of scientific subjects. Loved Olive's best friends who offer support, loyalty and love. THE LOVE HYPOTHESIS oozes charm that leaves you with warm fuzzies inside!