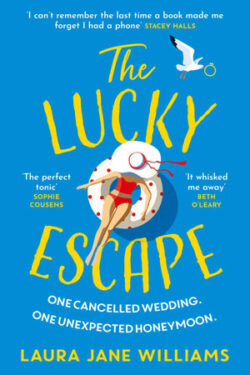 Author

Laura Jane Williams

Release Date

November 2, 2021

Publisher

Avon

ISBN/ASIN

9780008365455/‎B08P423ZDK

Our Rating

Reviewed by

Michele Rioli
Our Review
Marriage is supposed to be a special event shared by two. Why then is Annie standing at the altar alone? THE LUCKY ESCAPE is another excellent novel by Ms. Williams starring a jilted beautiful lady, Annie, who is encouraged to take her honeymoon anyway by her generous ex-in-laws. It was all prepaid by them, so they tell Annie to go. But by herself? Without her supposed-to-be husband Alexander, the big stinking dirty rat?
Annie is heartbroken, upset, confused, sad, and shattered. When a chance meeting with an old friend, Patrick, asks to meet up, they chat for hours, catching up on old times. Patrick calms and centers her, reminding her of everything she once was ages ago. Funny how Patrick's sunny outlook outshines Alexander's pessimistic personality. She obviously missed signs that her and Alexander were not meant to be.
Annie embarks on a new outlook in life, from now on anything goes! So, when her almost to be in-laws push her to take an exclusive trip intended for her honeymoon, she heartily agrees and asks if it is okay to take a friend? What will Annie discover about herself, Patrick, love, and life in general, while sunning herself in an exotic locale? Will Annie's heart open up to love again? Or will Annie and Patrick just remain friends?
Have you ever read a book where the conversation flowed perfectly, the romance matured just right, and there were scenes you read twice, because they were so good? THE LUCKY ESCAPE is that book! It is pure escapist fare filled with sadness, life problems, insecurity, and a slow blooming romance with many fun and humorous moments. Annie discovers how to live life again after the humiliation of being rejected on the day of her wedding. A serendipitous meeting with a past friend, Patrick, opens her eyes to moving on from her heartbreak. The author absolutely nailed the perfect rom-com with this book! THE LUCKY ESCAPE is a magically delicious rom-medy!