The Marvelous Monroe Girls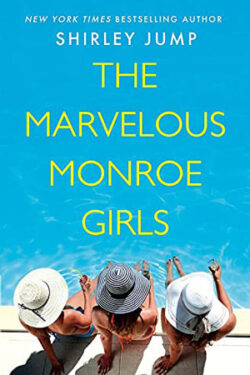 Author

Shirley Jump

Release Date

January 11, 2022

Publisher

Forever

ISBN/ASIN

9781538720288

Our Rating

Reviewed by

Jo
Our Review
THE MARVELOUS MONROE GIRLS is reminiscent of books by Susan Mallery and Carolyn Brown, two of my favorite authors of contemporary romance. This book has strong women characters, sisters, family friends, and a lot of angst woven into a love story.
This is a quick-paced read that hooked me from the first page and left me wanting more. There are many storylines woven together, with resolved conclusions and hints of more to come. This is Gabby and Jake's story. They've been friends since they were young and she became his champion when he was picked on at school. He was always included in events by her grandmother, who raised her along with her two sisters. (Jake was lonely and didn't have a good home life.)
Gabby tries to be strong for everyone in her family, but at the cost to her own happiness.  We see the many struggles she and her sisters face and how their lack of communication starts to hinder their relationships with each other and their friends.
Their grandmother is a key part of the story throughout, providing cohesion with their memories of growing up. There's a nice flow to the story, and the details of their small town in Massachusetts enrich the story. Though there is some closure, I was left hoping for more. THE MARVELOUS MONROE GIRLS provides an entertaining story of love and romance, with the tough but loving relationship of three sisters learning to grow, both together and alone.
Ms. Jump is an author whose books I haven't read in quite a while. I have added some of them to my TBR pile.