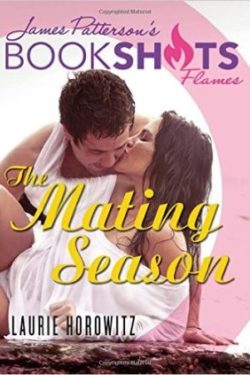 Author

Laurie Horowitz

Release Date

September 6, 2016

Publisher

Book Shots

ISBN/ASIN

9780316551625

Our Rating

Reviewed by

Jo
Our Review
THE MATING SEASON is another quick read from JAMES PATTERSON'S BOOKSHOT FLAMES. At one-hundred and sixty pages it has depth and engaged my emotions from the first page to the last. There was laughter and tears that I didn't expect given the premise of the story which is set mostly in Egypt and has the filming of a documentary about birds at its core. The characters are also multidimensional and surprised me a few times.  
Riggs and Sophie don't originally hit it off especially since he has a cockiness to him and she knows that filming the documentary with her is beneath him.  It doesn't help that he and their driver did not wait for her plane to land in Egypt but went on to the hotel without her making her make her own way there.  After a few days they do connect when working together and learn to respect what the other does.  There is definitely an attraction that blossoms into more when the heat ratchets up!    There are birds, family and friends, co-workers, friends from the past, sunrises, shopping, food, drinking, illness, miscommunication and a few twists to the story.  There is nice closure which was totally unexpected and a happily ever after in the offing.  
Horowitz is a new to me author.  I look forward to reading her books, THE FAMILY FORTUNE previously released and LOVE ME TENDER which will be out next May.  It is another book from JAMES PATTERSON'S BOOKSHOT FLAMES.