The Midnight Plan of the Repo Man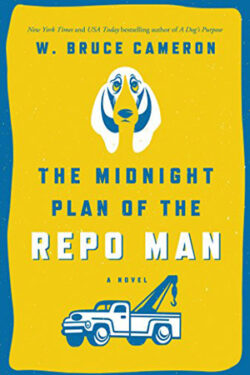 Author

W. Bruce Cameron

Release Date

October 28, 2014

Publisher

Forge Books

ISBN/ASIN

B00IQO3YYQ

Our Rating

Reviewed by

book lover
Our Review
THE MIDNIGHT PLAN OF THE REPO MAN is book one of the Ruddy McCann series by W. Bruce Cameron. It has murder, romance, and a touch of magic, along with an ancient dog named Jake and a giant stuffed bear.
Ruddy McCann is a former football star, ex-convict turned Repo Man and part-time bouncer in the small town of Kalkaska, Michigan. Ruddy's life is pretty dull until Alan Lottner, a dead realtor, takes up residence in Ruddy's head. Ruddy is unsure if Alan is real or if he's losing his mind. To complicate matters, Katie, the girl he's fallen for, is Alan's daughter.
I really loved this book, but there were some things Ruddy did that I would call too-stupid-to-live that kept me from going it a 5 star. Even so, it was laugh-out-loud funny with a warm, sweet romance that kept me up late reading.