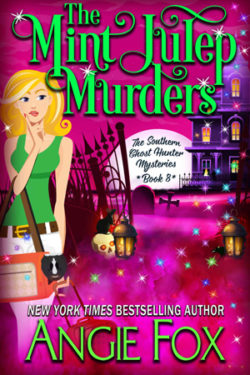 Author

Angie Fox

Release Date

April 25, 2019

Publisher

Moose Island Books

ISBN/ASIN

B07N5NKFF4

Our Rating

Reviewed by

Raonaid
Our Review
Ghost hunter Verity Long visits a haunted mental asylum to see one of its inmates. The deceased crime boss demands a high price for his information. Verity does not want to give in to the mob boss' request. However, she finds herself trapped inside the building with her boyfriend Ellis and ghostly sidekick Frankie. To escape, they need to find out who killed the building's current owner. What horrors will Verity discover about Mint Julep Manor's past? Will she get the information needed to set Frankie free?
Sheriff Ellis Wydell accompanies his ghost hunting girlfriend on her latest excursion. He gets his first taste of the dangers Verity faces on each supernatural investigation. When the asylum's owner ends up dead, Ellis handles things in the living realm while Verity deals with the ghostly plane. Will this case strain Ellis and Verity's relationship?
Verity is such a beautiful soul. She strives to help everyone, including the most tormented ghosts. I adore how strongly Verity defends the dead's right for a peaceful afterlife. She dislikes anyone exploiting them, especially for monetary gain or public attention. What I like the most about Verity is the lengths she goes through to help Frankie without forsaking her ethics. She refuses to allow the gangster to push her into anything illegal. Instead, Verity looks for positive ways to solve her supernatural cases.
Ellis is still a dreamboat. I am glad he plays a more active role in this book than the prior ones. I love Ellis' consideration for Frankie even though he cannot see nor hear the surly gangster. It really shows what kind of person he is inside, unlike some of his family members. What I like most about Ellis is his protectiveness of Verity. He dislikes feeling powerless against paranormal forces, but that does not stop him from trying to keep her safe.
THE MINT JULEP MURDERS is book eight in Angie Fox's paranormal series, SOUTHERN GHOST HUNTER MYSTERIES. The story can stand alone, yet it is better to read the previous books and novellas to understand the characters and what drives them. I like how this book is darker than the prior seven books with just enough humor to break up the storyline's tenseness.
THE MINT JULEP MURDERS is a suspenseful mystery with the right amount of zany humor. I like how things are churning in Verity's world, both good and bad. I cannot wait for the next installment of this series.