The Nantucket Beachfront Inn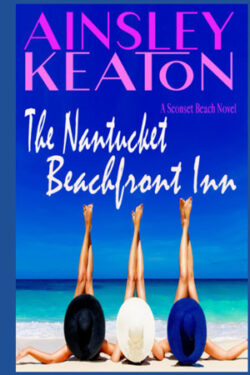 Author

Ainsley Keaton

Release Date

November 9, 2021

Publisher

Independently Published

ISBN/ASIN

9798762515580

Our Rating

Reviewed by

Jo
Our Review
THE NANTUCKET BEACHFRONT INN is the first book in the SCONSET BEACH series, and I'm looking forward to reading more. There are a multitude of characters with Ava at the story's core, but her best friends Hallie and Quinn are with her every step of the way.
The story starts in New York City where Ava, Hallie, and Quinn are discontented with their lives. When Ava leaves her job at a prestigious law firm, she's not sure what she'll do next. When she finds out she inherited a house on the beach in Nantucket from a former client, she decides to make it her home and turn it into a Bed and Breakfast. Once she arrives on the island with her friends, her dreams start to come true with a lot of hard work. Secrets are revealed, hopes are lifted, and magic seems to be in the air. Romance, tragedy, and the real world intrude on the characters, causing both conflict and resolution.
There is a good flow to the story; it's a quick paced read. The chapters are told by various characters as noted by the titles, but most are from Ava's point of view. I'm happy to hear there will be more books in the series. I can't wait to return to Sconset Beach and find out what everyone has been up to. I love the cover!
Ms. Keaton is a new-to-me author and I look forward to reading more of her books and not just those in this series.