The Nature of Fragile Things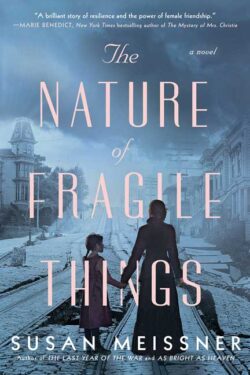 Author

Susan Meissner

Release Date

February 2, 2021

Publisher

Berkley

ISBN/ASIN

9780451492180

Our Rating

Reviewed by

Jo
Our Review
THE NATURE OF FRAGILE THINGS is historical fiction with some romance thrown in. It is set mainly in the San Francisco area. The1906 earthquakes and resulting fires serve as the backdrop for a lot of the story. Filled with emotions and danger, due to the earthquakes and destruction, the characters are multidimensional. Everything and everyone are not as they seem!
Sophie emigrates from Ireland to New York to start a new life. When New York isn't what she expects, she answers an ad placed by a widower looking for a wife and mother for his young daughter. Sophie travels to San Francisco to begin her new life, not knowing all that she signed up for.
Her new husband, Martin, is so secretive that it sets off alarms. When a stranger comes to her door, little does she know the upheaval her life will take on, especially when she and the stranger befriend each other. There are many threads being woven together, and Sophie manages to piece together a lot of her husband's actions—they don't paint a pretty picture.
I liked Sophie's relationship with her stepdaughter, Kat. Kat may be young and quiet, but she definitely pays attention to what's going on around her. She doesn't talk much, and her father seems indifferent to her and Sophie, but Kat manages to understand a lot of what's going on. 
THE NATURE OF FRAGILE THINGS is filled with intrigue, as well as a heaviness to the plot. Secrets push the story-line, as do the bonds of love. The epilogue, which takes place twenty years after the earthquakes, gives some closure and ties up a few of the loose ends, though I wish it had gone on a little longer.
Ms. Meissner is a new-to-me author. Although I've had this book on my TBR pile for quite a while, it wasn't until it was chosen to be this month's book club read that it made it to the top of my pile. I look forward to reading more of her books!