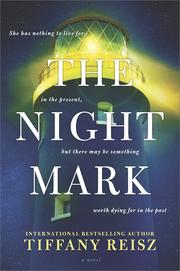 Author

Tiffany Reisz

Release Date

March 28, 2017

Publisher

Mira Books

ISBN/ASIN

978-0-7783-28551

Our Rating

Reviewed by

Diana Mcc
Our Review
THE NIGHT MARK is an extraordinary story of Faye Barlow's journey from a sad, despondent woman to a healthy, loving woman.
Faye has had plenty of tragedy in her life. She lost Will, her husband, the love of her life, to a carjacking four years before the start of the story. And then a miscarriage took their baby. Despondent, she marries her husband's best friend because he offered, and she was tired of living alone. Their marriage did not work out, and while married to him, she suffered several more miscarriages.
Faye decides to leave her husband and move forward with her life. She is offered an opportunity to reignite her passion for photography by documenting the lighthouses of South Carolina for a calendar. She flees her marriage traveling to South Carolina. She has been accused of living in the past, pining for her losses.
One night Faye decides to visit the deserted Bride Island and check out the lighthouse on her own. As she walks onto the decrepit pier, she is distracted and a rogue wave grabs her. Faye awakens in the arms of Carrick, who looks a lot like Will, her dead husband she's always loved.
Carrick Morgan, a naval officer by training, is the lighthouse keeper on isolated Bride's Island in the 1920s. The wife of a naval friend enters his life, asking for his protection from her abusive husband. He loves her and will protect her. Carrick explains her to the locals as his long lost daughter. Legend has it, she drowned.
When Faye travels back through time she washes up on shore, and because of a hiccup in time, Carrick believes his true love has just fallen in and been returned to him and she didn't drown. 
As Faye realizes all isn't what it seems, she adjusts to her new surroundings knowing that she really doesn't want to leave Carrick or the 1920's. Carrick believes Faye to be the woman he loves who had fallen into the sea. He gets a redo. For Faye, putting together the pieces keeps her intrigued and she falls in love with Carrick, not just because he looks like her Will, but because of his honesty, loyalty and respect of her.
The romance develops over the course of the book, by the end they are deeply in love.
At this point in the story, even though I knew it was a time travel, I wasn't sure if Faye was delusional from dwelling on all the tragedy in her life or if she was having a mental break down.
Once again a rogue wave grabs Faye and she is transported through time. She washes up on the beach of the deserted lighthouse, once again in the present day. She has a choice to make: does she want to live in the past or the present?
Tiffany Reisz is an incredible storyteller. Characters are well developed. In addition to Carrick, and Faye there are wonderful secondary characters. Carrick's black teenaged house maid, a priest who travels back in time, and significant other characters who won't soon be forgotten when you finish the book. The author did a lot of research on the history and symbolism of the lighthouse, and society in the 1920's.
THE NIGHT MARK offers a story about a second chance at love, and always living life to the fullest with no regrets. A truly fantastic story with a different twist, and it will keep you turning the pages.
I received a copy of this book from Romance Junkies Reviews for a fair and honest review.