The No. 2 Detective Feline Agency: A Hettie Bagshot Mystery, Book 1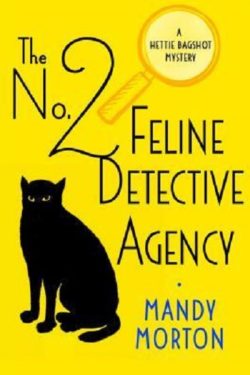 Author

Mandy Morton

Release Date

March 28, 2017

Publisher

Minotaur Books

ISBN/ASIN

9781250097835

Our Rating

Reviewed by

Michele Rioli
Our Review
Spectacular, sassy cats populate Mandy Morton's new series called THE NO. 2 FELINE DETECTIVE AGENCY. It stars Hettie Bagshot, a multi-talented feline crooner, who tackles murder cases albeit half-haphazardly. She has aspirations to be a detective and has a purrfectfully pretty raincoat to boot. So, Hettie and her best friend and flat mate, Tilly, give it a go. Her first case involves a home for senior cats. The head mistress, Marcia Woolcoat at Furcross elder care, is in a pickle and wants Hettie to investigate the disappearance of three feline bodies from their graves. Hettie and her practical, gumshoe assistant, Tilly, set out to uncover who is the catnapper. Between eating luscious pies from Butters' bakery in Hettie's building and the Jamaican food at Furcross's lunchroom, courtesy of their friend Marley, the top chef, the cats partake daily in tasty vittles and nip food in their pockets for later. Who knew sleuthing would be such hard work!
As Hettie and Tilly investigate, they become suspicious of nefarious doings and their suspect list grows. Why there are more suspects than fleas in their fur! Is just one person behind the catnapping? Or could there be a conspiracy? More importantly, what delectable Butters' pie will they eat next?
THE NO. 2 FELINE DETECTIVE AGENCY is a frisky murder mystery starring eccentric and cunning cats. Ms. Morton's novel mystery contains yarn fulls of fun, with flamboyant felines, bizarre catnappers and mayhem. Oh my gosh, I haven't laughed this much while reading a mystery in ages! The author borrows movie personalities and unique names to spin her own original tale of mysterious goings on at a senior care facility for cats. The core plot is cat-snatching from a cemetery at Furcross but there are subplots galore. Hettie and Tilly have started up a detective agency and astonishingly are hired to head up their first case. I just love all the personalities of the cats. They are just too much! The author, Ms. Morton, expertly infuses charm, sass, wit, and melodrama to great effect in this realistic cat fueled world. I absolutely loved this book! THE NO. 2 FELINE DETECTIVE AGENCY is a meowvalis, murder mystery with cats in raincoats sipping tea. Pawfection!