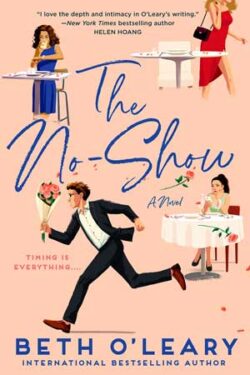 Author

Beth O'Leary

Release Date

April 12, 2022

Publisher

Berkley

ISBN/ASIN

9780593438442/B09B964FLL

Our Rating

Reviewed by

Michele Rioli
Our Review
I love Valentine's Day, but to be stood up? THE NO-SHOW is a twisty, titillating tale filled to the brim with a sweet, heart-breaking story. Three women all set to celebrate Valentine's day with the same man, although they are not aware of each other or the sneaky plot that Joseph has dangled in front of them all. Well than, where is he?
Siobhan is lovely and connects on a deep level with Joseph. They have a once a month arrangement, a night in her hotel room with hot, sweaty fun. Siobhan is very excited to have a breakfast date with Joseph on Valentine's day. But where is he?
Miranda works up in the trees as a specialist. It's a dangerous job. She met Carter and is falling for him big time. Who wouldn't? Carter is very handsome, charming and has charisma in spades. She's looking forward to their Valentine's day lunch. But, he isn't here. How long should she wait?
Meet Jane, a beautiful quiet girl who works at a charity shop. She asks Joseph to go with her to a friend's engagement party that evening as her fake boyfriend. They have become very close, good friends. Joe promised but hasn't shown up. How could he do this to her?
And lastly, meet the star of the whole Valentine's day fiasco, Joseph Carter. He is a stunningly handsome man. He handles, not so expertly, three relationships with three beautiful belles. Lying is second nature to him, especially since he is determined to date three lovely ladies. Only, there is more to Joseph than anyone could guess. Be prepared as it is all connected. What is it?
THE NO-SHOW is a bewitching, brilliant tale that will leave your head spinning! Three ladies all set to celebrate Valentine's day and Joseph doesn't show up. The nerve of him! Where the heck is he? Go on a soul-searching, frenetic journey as three ladies all tell their life stories and their dreams of dating delicious Joseph Carter. There is more to Joseph than meets the eye, big time! Be prepared to read this book straight through. I raced through the pages to find out what happened. The author expertly plots a mind-blowing story that will leave you reeling. THE NO-SHOW is a top notch, tense, adventurous romance!