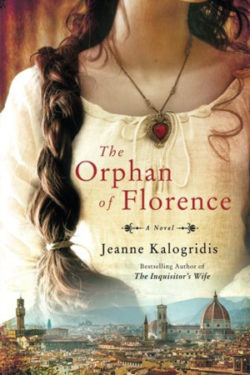 Author

Jeanne Kalogridis

Release Date

October 3, 2017

Publisher

St. Martin's Griffin

ISBN/ASIN

9780312675479

Our Rating

Reviewed by

Jo
Our Review
THE ORPHAN OF FLORENCE is an historical novel that takes place in the late 1400's in Florence and shows us its dark side. Other parts of Italy are mentioned but in relation to how those cities and Florence are at war. The Pope is on one side of the argument and Florence seems to be on the other. I was pulled into the story immediately and was able to sort all the characters quickly. There is a lot of action and adventure, some of it quite brutal. There are several story lines going on at once, but they are woven seamlessly together. 
We get to know Guiliano (Guiliana), the orphan that everyone knows as a boy but in reality is a girl, and this has to be kept secret. We get to know the orphan quite well as first a pickpocket and then the apprentice to the Magician of Florence, also known as Abramo, whose identity must also be kept secret. Guiliana learns more about her past than she ever expected,but does it give her the closure she needs? There's Tommaso, the orphan whom Guiliana cares for when he's left at the orphanage but not taken in, as well as her friend, Cecilia and Cecilia's baby. Guiliana doesn't want to see any of them in danger and tries to make deals to keep them safe. She's always worried about them and visits them where they live more than she should.
Lorenzo de' Medici, who is both wealthy and powerful, and his mother play a major role in the story, as do assassins and bodyguards. Niccolo seems to be a confidant to many and is to teach Guiliana how to fight in order to protect herself and others. We're never sure whose side anyone is on, and the amount of weapons in the story was more than I expected. 
There are a lot of black magic and spells along with twists and turns to the story. Abramo's home is like a fortress. There are many hidden doors, some before we even enter his home, that can only be unlocked with the keys he carries around his neck. He has secret rooms in the basement, and the making of the talismans is integral to the story.
The descriptions of the streets, some of the churches, the Ponte Vecchio, the shops and the River Arno are vivid and made me feel like I was there. Having been to Florence, it was easy to picture the Duomo and some of the other landmarks mentioned. There is nice closure with some surprises but an epilogue would have been wonderful.
Kalogridis is a new-to-me author who writes historical fiction. I will be adding several of her other books to my always growing TBR pile.