The Other Miss Bridgerton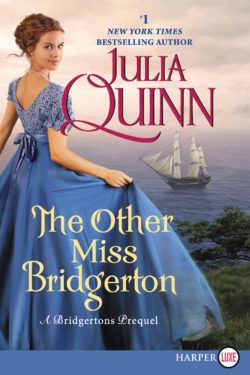 Author

Julia Quinn

Release Date

November 20, 2018

Publisher

Avon / Harper Collins

ISBN/ASIN

B0716WQCN8

Our Rating

Reviewed by

Raonaid
Our Review
Andrew Rokesby is the third son of the Earl of Manston. He secretly works for the crown under the guise of a gentlemanly privateer. Andrew's world is turned upside down when his crewmates surprise him with an unexpected guest. Tight on time, he has no other choice but to bring Poppy Bridgerton along on his current mission. Andrew cannot help but be drawn to the clever yet vexing woman. Will Andrew's profession put Poppy in danger on their voyage? Will he reveal his true identity to her?
Poppy Bridgerton is the niece of a viscount. Her adventurous spirit lands her in trouble when she explores a smuggler's cave. Poppy finds herself spirited aboard a privateer's ship bound to set sail. She dreads the repercussions her kidnapping may produce, yet she decides to make the most of her abduction. No matter how much her handsome captor exasperates Poppy, she cannot help but be drawn to him. Will Poppy discover Andrew's true identity? What other adventures await them?
Andrew quickly became a favorite of mine. I could not help but be smitten by the convivial rascal. He is known within his family and the branch of Bridgertons who lives next door as a jokester or prankster. This masks his keen intellect and sharp mind. I adore his sense of humor, especially when he purposely nettles Poppy during her confinement. I also like the care and consideration Andrew shows to his crewmates. He shares the same meal staples as his men, even providing them with tea and cleaner living stations. But what I love the most about Andrew is how he's not intimidated by Poppy's intelligence or her boundless curiosity. He recognizes a kindred spirit, one who shares some of his interests.
Poppy definitely lives up to the Bridgerton name. Her sharp-witted personality reminds me of Eloise Bridgerton, the heroine from SIR PHILLIP, WITH LOVE, and Hyacinth Bridgerton, the heroine from IT'S IN HIS KISS. I like how Poppy is sensible enough to take her abduction in stride. She knows hysterics and tears would be of no help in her circumstance. But what I liked most about Poppy is how she interacted with Andrew. She never once hid her natural inquisitive mind from him but remained herself on the voyage.
THE OTHER MISS BRIDGERTON is book three in Julia Quinn's historical romance series, THE ROKESBYS, a prequel spin-off her THE BRIDGERTON series. Sadly, I have not read the first book in this series, something I intend to correct soon. However, that did not hinder my ability to follow the plot, so this story can stand alone. I love that the author is introducing more Bridgertons. I never realized until this book how much I missed this particular family.
THE OTHER MISS BRIDGERTON is a fun and entertaining tale of two like-minded individuals thrown together only to discover love. I love Julia Quinn's wit and humorous writing style. I hope this is not the last of the Bridgertons.
A recommended read.