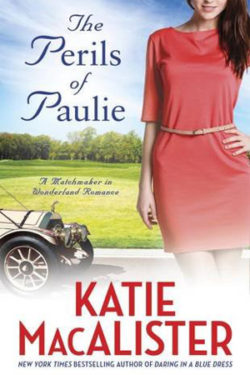 Author

Katie MacAlister

Release Date

January 2, 2017

Publisher

Jove

ISBN/ASIN

1101990686

Our Rating

Reviewed by

Raonaid
Our Review
Dixon Ainslie works as an estate agent at his noble brother's castle in England. He is coerced to participate in a TV reality reenactment of a historical cross-country race. Dixon accidentally overhears an embarrassing comment from a cheeky American woman at the race's meeting. He soon finds himself in an unorthodox love affair with Paulie Rostakova. After a series of unexplained events, including the disappearance of his car, Dixon joins Paulie's team as her pretend husband. The hijinks do not end as they continue the race.
Paulina "Paulie" Rostakova is the sole daughter of Sacramento's Flooring King. She wants desperately to escape her Russian father's overprotectiveness. Paulie jumps at the chance to be on a reality TV show that reenacts a famous 1908 cross-country car race. She is on Team Sufferin' Suffragettes, originally a three-woman team driving a vintage Thomas Flyer, as their make-believe mechanic. Paulie hooks up with a sexy but awkward Englishman at the mock race. Baffling accidents eliminate most of the competition, forcing Dixon Ainslie on Paulie's team. Will Paulie and Dixon manage to complete the race without any more strange mishaps?
Dixon is so charmingly awkward, which I found quite endearing and cute. He reminds me of his younger brother Alden in DARING IN A BLUE DRESS, book three. Dixon allows everyone to believe he grieves over his late fiancée's passing to cover the truth of their relationship. I like how he wants Paulie to know the truth instead of her believing that she competes with a dead woman's memory. Dixon's mild personality compliments nicely with Paulie's sassiness. I enjoy the fact that he's not alpha but maintains the British echelon's mannerisms and outlook.
Paulie is such a fun and lively heroine. Her hilarious antics and boisterous personality made the entire book entertaining to read. I love how she often misconstrues Dixon's reactions and body language, thinking the Brit finds her unappealing when he feels the opposite. I especially like how Dixon plays off Paulie's cues and leads throughout their whirlwind courtship.
THE PERILS OF PAULIE is book four in Katie MacAlister's cute contemporary romance series, AINSLIE BROTHERS. I like how the author tells the story from the heroine and hero's journal entries. I enjoyed the heroine's emails to her father, step-mother, and best friend, especially the hilarious autocorrects.
THE PERILS OF PAULIE is a quirky and zany story of two people's misadventures on an unorthodox cross-country road trip. I cannot remember the last time a book made me giggle so much. I am definitely looking forward to the next installment of this fun and amusing series.
A RECOMMENDED READ!