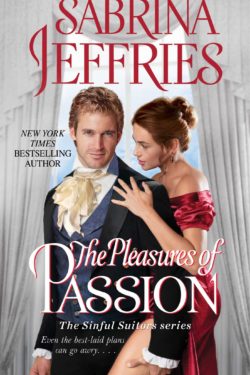 Author

Sabrina Jeffries

Release Date

June 20, 2017

Publisher

Pocket

ISBN/ASIN

1501144464

Our Rating

Reviewed by

Raonaid
Our Review
Niall Lindsey, the new Earl of Margrave, returns from exile with a pardon for killing a man in a duel seven years prior. England's undersecretary / spymaster coerces Niall into performing one more task for him. He needs to work with his former betrothed, the woman who refused to flee into exile with him, to unearth a counterfeiting mastermind. During their make-believe courtship, Niall and Brilliana discover other factors that had a hand in destroying their youthful relationship. Will Niall finally let go of their botched past? Can he convince Brilliana to trust him enough to start anew?
Widow Brilliana "Bree" Trevor relishes in her newfound freedom from any man's control. She vows never to marry again, especially after being constantly betrayed by the men in her past. Brilliana's plans to retire to the country are derailed by England's undersecretary / spymaster. She reluctantly agrees to aid Niall in his investigations to keep scandal from touching her young son. Recent revelations cast a new light on their past relationship. Will Niall prove he is not that reckless rogue Brilliana remembers? Can Brilliana entrust her heart to Niall once again?
Niall is such an easy hero to like. I admire the sacrifices, including a future with Brilliana, he made to protect his sister. Even at the cost of losing Bree again, Niall still refuses to divulge the full depths of his sister's secrets. I like how once the initial anger wears off, he starts to think rationally and recalls his father's peculiar words before Niall's exile. Then, once he discovers why Brilliana wedded another, and his own father's betrayal, Niall strives to re-win Bree's trust and love at any cost. But what I enjoy the most about Niall is his adorable awkwardness around Brilliana's toddler son.
I love the originality of Brilliana's name and I wonder about its correct pronunciation. This is the first time I have seen its uniqueness in any genre, especially a historical romance. Bree shows remarkable resiliency in making the most of the situations forced on her. I empathize with her hesitancy on risking her heart again or trusting in Niall. But what I like most about Brilliana is despite all that her father did to her, she does not want to see him harmed or incarcerated.
THE PLEASURES OF PASSION is book four in Sabrina Jeffries historical-romance series, SINFUL SUITORS. Thankfully, the story can stand alone, especially since I have not yet read the prior three books. That did not hinder my ability to follow the plot. It has been a couple years since I have read a Sabrina Jeffries' novel, and this story reminded me why I have always enjoyed this author's historical romances.
THE PLEASURES OF PASSION is a sweet tale of two people overcoming the obstacles of their past relationship to start afresh. I adore how this story reacquainted myself with this genre. I plan to indulge and read the previous three books in this delightful series.