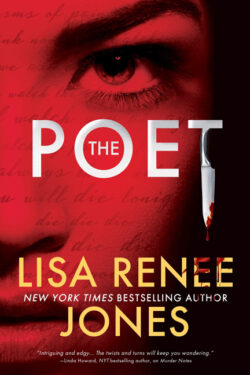 Author

Lisa Renee Jones

Release Date

March 9, 2021

Publisher

Entangled

ISBN/ASIN

9781682815182

Our Rating

Reviewed by

SJ
Our Review
THE POET is a police procedural mystery with the barest hint of romance by the impressive NYT bestselling author Lisa Renee Jones. I would not classify this as a romance and reviewed it solely as a fictional piece, as I often read thrillers and police procedurals.

Ms. Jones is a very talented writer, evidenced by her well-written prose. It's for her writing I gave the book 3 hearts. Unfortunately, it was a real miss for me. So much of the plot seemed forced. I had a tough time being afraid at all of "The Poet" and wondered how the main character, Detective Samantha Jazz, connected his poetry to the crimes so quickly.
I picked up and put the book down so many times, trying so hard to like it. The author is skilled with words, but the plot and characters didn't move me at all. I did like Lang, Samantha's partner, and they have some nice banter. But Samantha is hard to take. For a savvy policewoman, she makes a lot of leaps in logic and doesn't take her security seriously. She also treats her partner like crap, at times as if they had no friendship at all between them. The best parts of the story were few and far between and came from the villain's point of view.
The mystery isn't easy to figure out, but a character introduced farther into the story has a lot of importance that's just missing for most of the book. I felt like everyone was running in circles with the plot not going anywhere until the author needed us to see something.
I had a tough time taking THE POET seriously, and by the end really didn't care if the heroine caught her criminal. But this is just one reviewer's opinion, and others might like the slow, dragged out mystery and tough-as-nails cop with a score to settle due to a rough past relationship with her father.