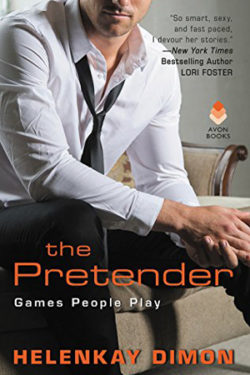 Author

HelenKay Dimon

Release Date

December 26, 2017

Publisher

Avon

ISBN/ASIN

B06Y5HKWGY

Our Rating

Reviewed by

BPoston
Our Review
Gabrielle Wright has had a horrible childhood, which has spilled over into her adult life. She finds her sister murdered and is the number one suspect in the crime. Nobody believes she's innocent, and she can't prove she had nothing to do with the crime. She believes it's only a matter of time before she's arrested.
What she doesn't know is that there was a witness. Harrison Tate is a thief. He was at her family estate to retrieve some stolen art to return to its rightful owners. Though he didn't see who killed Gabrielle's sister, he does know it wasn't her.
THE PRETENDER has so many twists and turns. Can Gabrielle prove her innocence?  Can Harrison, who feels guilty for not coming forward as a witness because of his illegal activities in the house, help Gabrielle and figure out who is responsible?
For those who enjoy puzzles, this is a fun read. I thoroughly enjoyed it.
A Recommended Read!