The Prince And The Wedding Planner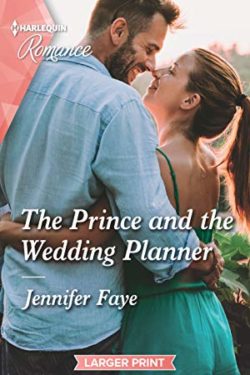 Author

Jennifer Faye

Release Date

March 3, 2020

Publisher

Harlequin Romance

ISBN/ASIN

9781335556189/B07VLT6RBL

Our Rating

Reviewed by

Michele Rioli
Our Review
In Ms. Faye's first book in the Bartolini Legacy series, a gorgeous wedding planner happily plans the perfect wedding for a royal in THE PRINCE AND THE WEDDING PLANNER. Bianca is hired by Crown Prince Leo to ease tensions in his family between his sister and mother. He is entranced by Bianca's beauty and poise. Ironically, he must announce his own engagement soon. So far no woman holds his attention like Bianca does. Oh boy, this is not good.
Bianca is reeling from the sudden death of her parents who died in an accident. The will states that her and her siblings must compete for the control of the estate. She doesn't take it well, and seizes the chance to plan a wedding to boost her career. Plus, she hopes it will take her mind off her grief and family matters. Hopefully staying busy will help, but Prince Leo is messing with her focus. Every time he is near, she melts at the sight of him. She needs this job badly for personal reasons but she is so attracted to him. Prince Leo is equally smitten by the lovely lady. Will Prince Leo and Bianca fall in love regardless of their stations in life?
Ms. Faye's romantic wedding planner story is just beautiful, touching and sigh- worthy. The story stars a handsome prince who must declare an engagement, but a pretty wedding planner captures his heart. Bianca needs this job for family reasons. She doesn't anticipate her immediate attraction to the handsome prince, which throws a monkey wrench into her plans. They actually fit together nicely but he is a royal prince and she is just a Bartolini. Is a future together even possible?
If you like a heaping dose of swoon, you will adore this romantic novel! Ms. Faye's characters are clever, strong and realistic. This classy romance has a dash of mystery thrown in as well. I absolutely loved this book! THE PRINCE AND THE WEDDING PLANNER is just like a chocolate cake, rich, sweet and utterly delicious!