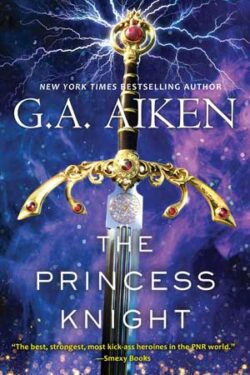 Author

G.A. Aikens

Release Date

November 24, 2020

Publisher

Kensington

ISBN/ASIN

9781496721259

Our Rating

Reviewed by

Raonaid
Our Review
Gemma Smythe is the younger sister to the Blacksmith Queen. She is also a War Monk, a person who fights for the pleasure and glory of their war god. When Cyrus the Honored annihilates various religious sects, Gemma must return to her monastery to warn them. However, she finds her monastery in turmoil. Gemma is tasked to not only revive her order but to bring certain rival sects to her sister's kingdom. Can Gemma trust Quinn to watch her back? Will she be able to complete the tasks assigned her?
Quinn of the Scarred Earth Clan is an Amichai, a shape-changing centaur. For amusement, he accompanies Gemma on her mission. Quinn learns quite a bit about the fight-happy Smythe sister. He even helps Gemma find and recruit the representatives from other war sects. What mayhem will the gathered sects create in Keeley's kingdom? Can Quinn keep Gemma from doing anything too reckless?
Gemma is a tough-as-nails warrior who does not need a man to coddle or protect her. I love Gemma's relationship with her sister Keeley. The sisters may squabble and fight, but whenever the need arises, they quickly band together without hesitation. What I like the most about Gemma is how she recognizes Quinn's skills and bad habits. The centaur may get under her skin, but Gemma trusts him to protect her back.
Quinn is such a lovable jerk! He made me laugh so much throughout the book with his antics and quips. I love Quinn's personality. He shows no shame in annoying people, and no one is exempt. I adore how Quinn treats one of Gemma's fellow battle cohorts. He never once teased or mocked the fellow for his soft-heartedness but accepted him readily. What I like the most about Quinn is his ability to see Gemma's hidden side. He sees the side that she rarely shows to others.
THE PRINCESS KNIGHT is book two in G.A. Aiken's fantasy romance series, THE SCARRED EARTH SAGA. The story can easily stand alone, but I suggest reading the series in order, just for the humor aspect alone. The author does a wonderful job of paraphrasing the important parts of the first book. I cannot remember a book since THE BLACKSMITH QUEEN that made me laugh out loud. The only complaint I have with the story is Gemma and Quinn's romance. I wish there was a little more focus on it.
THE PRINCESS KNIGHT is a clever melding of humor and high fantasy. I never thought the two could go together, but G.A. Aikens accomplished it. I cannot wait for the next adventure in this entertaining series.