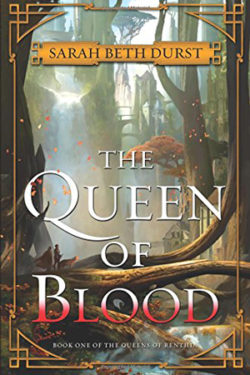 Author

Sarah Beth Durst

Release Date

September 20, 2016

Publisher

Harper Voyager

ISBN/ASIN

978-0062413345

Our Rating

Reviewed by

SJ
Our Review
Sarah Beth Durst's THE QUEEN OF BLOOD is the first in her THE QUEENS OF RENTHIA series. This book is epic fantasy with threads of romance throughout, but the plot is firmly in front, an intricate web of magic, deceit, and incredible world-building.
The book is set is the world of Renthia, where the queen stands between humanity and malevolent spirits who would do them harm. With the queen's position so incredibly important, it's imperative she have heirs. Young girls are trained at an academy to one day possibly take her place. Only the best and brightest with a talent for magic are accepted and trained.
Daleina is not the strongest of the bunch and has no desire to become queen. But she wants to help protect her family and her friends, like those in her village who've been attacked by spirits. Her trainer is Ven, a fallen champion, who's secretly spent his time away from the kingdom fighting against an increasing number of spirit attacks.
Their journey forces them to trust in each other and try to find the source of the unrest plaguing the land. With the help of some richly drawn secondary characters, they'll quest to stop the troublesome spirits and help the queen. If they can…
A wonderfully visualized world that takes the reader into the heart of Renthia. Daleina's matter-of-fact attitude and Ven's daring adventure are well done and make for a solid pairing. The existence of magic and how it's treated is extremely creative. The rules to Renthia and how the humans deal with spirits left for a dangerous tension that was kept alive throughout the book, making the read one I couldn't put down.
I cannot wait to find out what happens in the next book. For epic fantasy that's well-crafted and a plot intricately woven, don't miss THE QUEEN OF BLOOD.
RECOMMENDED READ