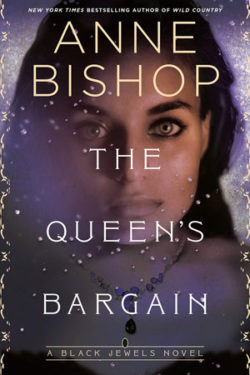 Author

Anne Bishop

Release Date

March 10, 2020

Publisher

Berkley Publishing

ISBN/ASIN

1984806629

Our Rating

Reviewed by

Raonaid
Our Review
Daemon Sadi is a Black Jeweled Warlord Prince of Dhemlan and the new High Lord of Hell. Surreal SaDiablo is Daemon's wife, mother of his child, and his second-in-command. Their marriage is on the verge of collapse. Surreal feels threatened by Daemon's "The Sadist" personality trait. Daemon fears the tenuous hold of his sanity will splinter. Who can Daemon turn to for help? And what price will she demand? Will Daemon, Lucivar, and Surreal be able to purge Kaeleer of its current taint?
Jillian is a Purple Dusk jeweled Eyrien witchling. Lucivar Yaslana, the Warlord Prince of Askavi, is the only father-figure she has ever known. On the cusps of adolescence, Jillian is eager to explore her femininity. Lord Dillon is a young, Opal Jeweled Warlord. Dillon wants to train to be an escort and serve in a Queen's court. However, the machinations of an unscrupulous witch ruin his dreams and destroy his reputation. Dillon believes Jillian is his last chance to repair his tarnished reputation. Can Jillian help restore Dillon's social status? Or is their relationship doomed at the beginning?
It has been years since I last read the books, so I vaguely remember Jillian. I adore Jillian and Lucivar's relationship. She is aware that he regards her as a daughter. Dillon, in some ways, reminds me of Daemon in the earlier books, especially his mistreatment at the hands of aristo witches. I understand why Dillon did what he did. He is a young man, who was wronged and forced into a corner with no allies. What I like about Dillon is that he did manage to maintain some sense of himself, enough to help someone during his troubled times.
Daemon and Surreal have always been my favorite characters from the series. However, I am not a fan of them being a couple. I did have trouble with that aspect of the story. It is a little jarring to see Daemon with someone other than Jaenelle/Witch. I feel Surreal got cheated in the relationship department. I adore Daemon's relationship with his witchling daughter. It reminds me of Saetan's interactions with Jaenelle. What I love the most about Daemon his how little has changed between him and Lucivar. The two brothers are still a formidable yet deadly team. They are quick to aid each other whenever the need arises.
THE QUEEN'S BARGAIN is book ten in Anne Bishop's dark fantasy series, THE BLACK JEWELS. I am a longtime fan of this particular series; however, I have not read TWILIGHT'S DAWN, book nine, for personal reasons. These books are not for everyone, especially those uncomfortable with sexual violence and abuse. It is important to read the prior nine books in the series to understand the world's unique dynamics and the characters' history and relationship.
THE QUEEN'S BARGAIN is an anticipatory return to an unforgettable series. I am eagerly anticipating the next installment. I cannot wait to learn Daemon's role in Kaeleer's future.