The Rancher Returns - The Westmoreland Legacy #1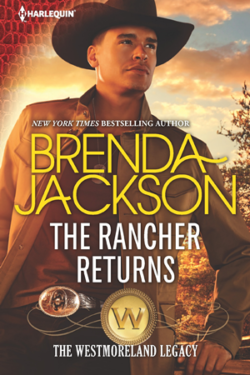 Author

Brenda Jackson

Release Date

October 4, 2016

Publisher

Harlequin Desire

ISBN/ASIN

9780373734863

Our Rating

Reviewed by

Jo
Our Review
THE RANCHER RETURNS is a quick paced read with lots of twists and turns, mystery, intrigue, loving and love and a whole lot more.  It's the first book in a new series that left me wanting more.  
Layla is a college professor of history and archaeology. She and some of her students are going on a dig in Missouri of all places looking for buried treasure from Jesse James! She's done a lot of research and knows what she's after but has many doubters who just don't believe, one of them being another professor that could pull the plug on her project. Gavin is a SEAL currently on a mission but receives a phone call from his grandmother's neighbor about the dig and where it's to take place on his land.  A place that has special meaning to Gavin.  He takes leave and head's home to find out what's going on and to see if his grandmother is being taken for a ride.  He has more than a passing interest since the ranch is his home and he co-owns it with his grandmother. I can feel the love between him and his grandmother and when he and Layla meet there is instant chemistry that is totally combustible!  Watching her put on the brakes each time Gavin gets amorous was fun to watch especially since he feels like he's been hit by a lightning bolt – something he's never felt before.  He's totally out of character in his feelings, the choices he's making – especially regarding women – and his actions.  His grandmother sees it and do his teammates.  Things aren't going smoothly for Layla since there's a troublemaker in her midst but she handles herself well throughout.  
The prologue set the stage and the epilogue tied the story up nicely.  There were secrets, crimes, reminisces, anger, tears, frustration, intimidation, family and friends, good food, camaraderie, lots of steamy loving, love, happiness, laughter, accomplishments, pride and recognition.  There was closure and a happily ever after in the offing and several that have already taken place.  Layla's students – minus the troublemaker – do her proud!  It was nice to meet the other SEALS on Gavin's team when they came when he called needing their help.  
Somehow this is the first book of Jackson's that I've read but it won't be my last.  I can't wait to delve into her WESTMORELAND SERIES which totals more than thirty books. THE WESTMORELAND LEGACY is a spin-off series.and I'm hoping I don't have to wait too long to meet up with them again!