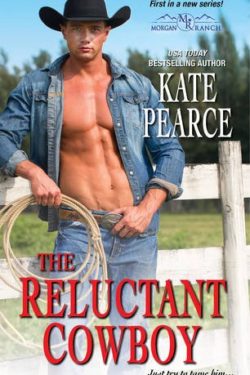 Author

Kate Pearce

Release Date

November 29, 2016

Publisher

Kensington/Zebra

ISBN/ASIN

9781420140002

Our Rating

Reviewed by

Diana S
Our Review
THE RELUCTANT COWBOY is a western themed contemporary book set in California.
Chase Morgan is the oldest of the Morgan brothers who was raised by their grandmother. Chase left home fresh out of high school to go to college and never returned. Chase and his two friends are millionaire entrepreneurs. His Grandma Ruth sent Chase an urgent message saying she needs his help. Being the good man that he is and respectful of his grandma, Chase returns to the Morgan ranch.
January Mitchell is a historian who is working for the state historical society to document the history of one of the oldest ranches still operating in California. January wants to save the ranch for history's sake and so Grandma Ruth can remain on the land she loves. Finding out the mysteries of the ranch that no one else knows, except the family, is one of her goals. Meeting Chase and realizing how stubborn he is about letting anyone know the family's secrets, just makes January all the more curious. When Chase and January delve into a friends-with-benefits relationship, it makes the couple rethink their mutual decisions of no serious relationships ever again.
The Morgan Ranch consists of a ghost town, cattle ranch and hot springs which have never been used to their potential. Chase is shy about letting strangers come onto the ranch and maybe discover their secrets. The Morgan brothers haven't spoken to each other in over twenty years, after their mother and sister disappeared. Their father is thought to have killed them and after he turned to drinking and left the boys with their grandmother to raise, the family fell apart. Grandma Ruth knows it is time to bring the boys together any way she can to iron out the truth.
THE RELUCTANT COWBOY is a riveting story of family differences and their secrets. This is the first book I have read by Kate Pearce but I will be looking for the other two books so I can find out all the secrets of the Morgan Ranch. This novel is a great story of cowboys brought back to the home and land they once loved.