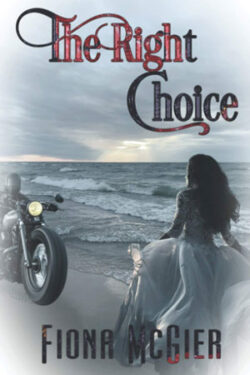 Author

Fiona McGier

Release Date

October 16, 2020

Publisher

eXtasy Books Inc

ISBN/ASIN

9781487430795

Our Rating

Reviewed by

Jo
Our Review
THE RIGHT CHOICE is a fast-paced and sometimes steamy read that takes place in present day and the past. This helps to give Pam's history with her parents, as well as Eric, and even her soon-to-be husband. Pamela is a runaway bride, and I don't blame her in the least, especially when we learn more about her soon-to-be ex. That her mother colludes with him is unconscionable.
Donald is definitely not likable. He's a user to get what he wants out of life, but so is Pamela at times. Pamela's true love is Eric, an auto mechanic, who she's loved for twelve years. He seems to be the only one she can count on when things get tough. She puts him in an awkward position after not seeing him for a few years, but they still have feelings for each other. Her parents don't like Eric. They've always felt he wasn't a good prospect, especially since she had plans to go to college. She did end up as a vet who owns her own business—with mommy and daddy's help.
When things take a bad turn, it's up to Mel to find out who will really stick by her. Mel and Eric's love shines in this story, and their obstacles make that love that much more satisfying. The ending gives closure and will leave the reader satisfied.
Ms. McGier writes in a variety of genres. Her contemporary romances are my faves. All have an edge to them both with characters and the amount of heat.