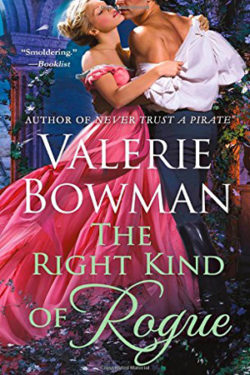 Author

Valerie Bowman

Release Date

November 1, 2017

Publisher

St. Martin's Press

ISBN/ASIN

978-1-250-12171-4

Our Rating

Reviewed by

Vanessa E.
Our Review
A young miss, impoverished by the foolish acts of her parents and consigned to the wallflower section, her loyal friends dedicated to helping her find a husband and the devilishly handsome peer of the realm who finally starts paying attention to her–these reasons and so much more are why you'll love Valerie Bowman's latest novel, THE RIGHT KIND OF ROGUE! 
Miss Meg Timmons is entering her third Season with the help of her friends, Lucy, the Duchess of Claringdon, and Sarah, the Viscountess Berkeley, to finally find a husband.  If only Sarah's brother, Hart, Viscount Highgate, hadn't kissed her by accident the previous year. Will the memory of that kiss be enough to convince Hart that Meg would make the right kind of wife? You absolutely have to read this story. I know I certainly didn't want it to end!
You will enjoy how seamlessly Miss Bowman weaves her past stories' characters into the action and adventures of her current story. If this is the first book in Miss Bowman's Playful Brides series you have read, it will definitely have you searching for the rest of the books to learn more about these intriguing and intrepid Lords and Ladies of Regency England.
This story is an enthusiastic RJ RECOMMENDED READ!